Braves have 6 finalists, 5 champs at Mat Classic
Basehor-Linwood had eight placers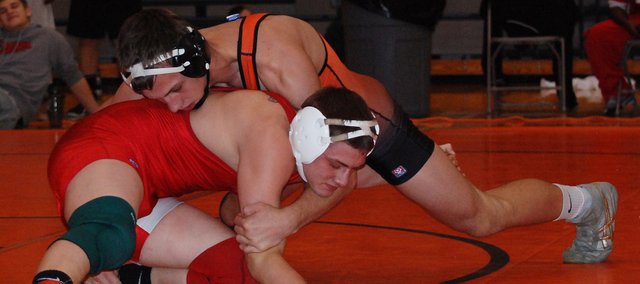 How's this for home-mat advantage?
Photo Gallery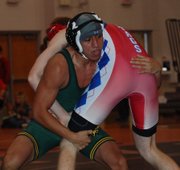 Dick Burns Mat Classic 2012
The Bonner Springs wrestling team placed six in the finals at its home tournament — the Dick Burns Mat Classic — on Saturday at the District P.E. Center and produced five individual champions.
For perspective, no other team had more than three champions.
It was the sort of performance that third-year BSHS coach Brandon Jobe has been waiting for this season, and he was excited to see it happen in the first tournament of 2012.
"We put six in the finals, and with winning five of the six I'm pretty happy with that," Jobe said. "We've had some tournaments where we didn't finish very well and didn't do well in our placing matches — that's been a problem of ours — so I'm real pleased with that today.
"We've still got a long way to go; there are a lot of execution things that I'm pretty frustrated with right now that we've got to clean up. We've just got to get better from week to week."
Despite having the most individual champions, the Braves finished fourth as a team with 184 points at the 14-team tournament. Blue Valley Southwest had no champions but placed first with 199 points, Baldwin was second with 194.5 and Fort Scott finished third with 185.5.
Basehor-Linwood had no finalists but eight placers and took fifth as a team with 113 points.
Bonner Springs' dominance took place in the lightest and middle weights.
A pair of brothers set the tone for the Braves. Josiah Seaton used two pins and then an 8-3 decision against Baldwin's Jon Pratt to earn first place at 106 pounds. Justus Seaton followed suit with three straight pins — the last coming in the second period of the finals against Donte Boose of Sumner Academy — to finish first at 113 pounds.
From there, the Braves' big guns took over. Defending state champion Jonathan Blackwell earned two pins to reach the 145-pound finals before defeating Blue Valley Southwest's Matt McWhorter by a 10-2 major decision to take first.
Two more returning state medalists then won titles for Bonner Springs. Mark Hobson pinned his way through all three matches to take first at 152 pounds, and Aaron Puckett pinned all four of his opponents to claim the 160-pound championship.
The lone BSHS finalist who didn't take first was 285-pounder Shawn Stirling. He earned a pair of pins to reach the finals before being pinned in the first period by Paola's Joe Pomatto.
In addition to the six finalists, the Braves had four more placers. D.J. Ballard competed unattached at 106 pounds and placed third, Austin Cobb finished fourth at 126 pounds, Bryan Lanning finished sixth at 138 pounds, and Mason Roberts competed unattached at 160 pounds and finished sixth.
"Austin Cobb did a good job today," Jobe said. "He only wrestled three matches first semester so he's still getting some matches under his belt and getting back in the swing of things, but he's doing a good job. He's a senior and he knows what to expect, and we have high hopes for him coming through here.
"Brian Lanning, a freshman, ended up sixth today. He's a little green, he doesn't have a whole lot of experience, but what he lacks in experience he makes up for with his heart and determination and grit. D.J. Ballard's a freshman, and he ended up pinning a kid that was 18-2 and a varsity wrestler coming in, so he's coming along. Having him and Josiah at 106 battling every day is making each other better. And Patrick Ballard at 182 is really and undersized 182, but he just goes out and gets after it."
Although Basehor-Linwood didn't have any finalists, four Bobcats advanced to the consolation finals and three of them won.
Sammy Seaton used a first-round bye and second-round pin to reach the 113-pound semifinals before falling to eventual runner-up Donte Boose of Sumner Academy by a 3-2 decision. Seaton bounced back with a pair of pins — first against Shawnee Mission Northwest's Emilio Amunatigui and then against Blue Valley Southwest's Grant Poje — to finish third in his weight class.
Cory McCleary also earned a third-place finish at 145 pounds and posted a 3-1 record for the day. Seagar Smith went 3-1 and finished third at 285 pounds.
Antonio Ferro nearly joined his teammates with a third-place finish, but the 120-pounder came up just short in his comeback bid against Esdras Cisneros of SMNW in the consolation finals. Cisneros led by nine points in the third period, but Ferro rallied and forced overtime with the match tied at 16-16. Cisneros earned a takedown in the extra period for an 18-16 victory and Ferro finished fourth.
Also for the Bobcats, 138-pounder Josh Summers finished fifth, 160-pounder Stephan Struzzo took fifth, 106-pounder Shayn Morris finished sixth and 132-pounder Justin Summers finished sixth.
Basehor-Linwood and Bonner Springs both compete Friday and Saturday at the Bobcat Classic at BLHS.