Jenkins impressed by students during visit to
BLHS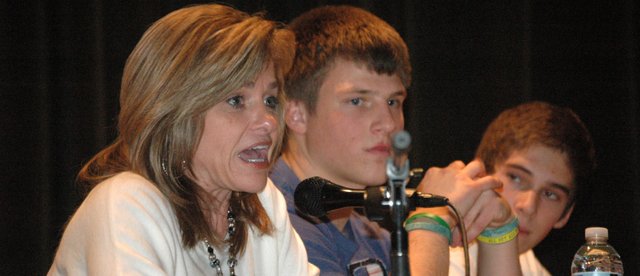 U.S. Rep. Lynn Jenkins knew how she'd grade the Basehor-Linwood High School students who welcomed her and then questioned her during a forum Monday at the school.
"I'd give them all an 'A,' " Jenkins said after her question-and-answer session.
Jenkins, a Republican who represents Kansas' 2nd District, came to BLHS on Monday at the invitation of Forrest Brandt, who teaches gifted classes at the high school and Basehor-Linwood Middle School. But Brandt left it up to a group of students to greet the congresswoman upon her arrival and then lead a roundtable discussion in front of about 100 other students in the school's auditorium.
Five students onstage with Jenkins fired off questions on a variety of issues. Junior Joe Levinson asked her what should be the first step in reducing the national debt (her answer: reform Medicare and Social Security); sophomore Taylor Cameron followed up by asking if she'd support the privatization of Medicare (no, she wouldn't); and senior Garret Kahle quizzed her on whether she'd support the use of nuclear power to support energy independence while also reducing the nation's carbon footprint (yes, she would).
And after senior Trevor Hickman asked her how Congress could improve its image, she pondered why Americans tended to have low opinions of the lawmakers in Washington, D.C.
"Everybody hates Congress," Jenkins said. "I hate Congress."
But after a laugh, Jenkins defended herself and her colleagues, saying the division in Washington and media sensationalism of conflicts helped hide the fact that members of Congress work hard to do what they believe is right for the country.
Earlier, she said her favorite part of her role was days like Monday, when she could get away from the near-constant meetings that take place in Washington and simply talk to constituents in her district. That's still the case even when those constituents are unhappy about goings-on in government, which happens frequently these days, she said.
"Sometimes it's not pleasant," she said. "People are frustrated right now, if you haven't noticed. They're mad."
The former accountant and state treasurer also offered students some career advice after Kahle asked her how her career background had helped her as a Congress member.
"I don't think there's any better foundation to be in government or business, really anything, than a degree in accounting," Jenkins said. "So if there's anybody out there considering studying accounting when you go to college, I would highly encourage it."
BLHS senior Laura Beebe, who helped welcome Jenkins when she arrived, said Jenkins' visit got her thinking about her future career. Beebe, who is interested in law and politics, asked the congresswoman about an internship in her office.
"I thought it was pretty inspiring," Beebe said of the visit. "It makes me want to join Congress."
Levinson said that, though he's still only 17, he'd already begun to grow cynical about government over during the last few years. But meeting Jenkins and hearing her straightforward answers to the students' questions had given him new hope, he said.
"Getting to see her kind of restored my faith that things might actually turn around," he said.
Brandt said he invited Jenkins to the school to help teach his students about leadership and civic participation, and they had not disappointed when he gave them the responsibility of leading the event.
"I was completely not sure what to expect," Brandt said, "but I was thoroughly surprised and glad to be part of this school."