Judge to rule soon on recall election for Basehor mayor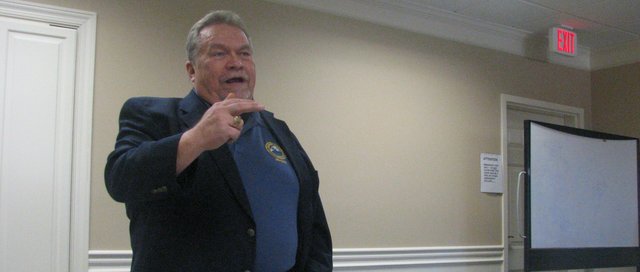 Leavenworth — The fate of a possible election to recall Basehor Mayor Terry Hill remained in the air after a hearing Wednesday morning in Leavenworth County District Court, but a judge's decision on the matter could arrive by the end of the week.
Judge David King said Wednesday he would aim to release a written ruling by Thursday on whether Hill's recall election will proceed. That would allow time for county officials to place Hill on a Basehor recall ballot on Feb. 28 along with Basehor City Council members Dennis Mertz and Iris Dysart. But the judge said he may not be ready to rule by that time, in which case he would issue an order to hold off on proceeding with the election until the matter is settled.
If the decision is delayed, Leavenworth County Clerk Janet Klasinski said she would proceed with the Feb. 28 recall election for Mertz and Dysart and then schedule a separate election for Hill later if it's approved in court. A separate election would increase costs for the city of Basehor, which is required to foot the bill for recall elections for city officials.
"I hate to do that," Klasinski said, "because I wanted to save the city a little bit of money."
Basehor attorney Jeffery Sutton, representing Hill, also said Wednesday that even if the judge rules to allow the recall election, he would ask for the election to be put on hold because the mayor would likely appeal the ruling.
If Hill's recall election is delayed or called off, he would be in position to appoint replacement council members for Mertz or Dysart, should residents vote to recall either or both. The appointments would be subject to approval by the remaining council members.
A three-member committee seeking Hill's recall last month submitted to the county a petition that was determined to have enough valid signatures from registered Basehor voters to prompt a recall election. But in a brief submitted to the court last week, Sutton argued that the recall election should be called off because the grounds for recall cited on the petition were too vague and were not sufficient to prompt a recall.
Leavenworth County Attorney Todd Thompson approved the petitioners' grounds in November, saying they were sufficient to proceed. Leavenworth County Counselor David Van Parys, arguing in court Wednesday on behalf of Klasinski, the defendant in the case, also said the allegations were sufficient and were directly related to Hill's duties as mayor, reflecting the kind of misconduct that the state's recall laws are designed to answer.
The group seeking to recall Hill accused the mayor of misuse of public funds connected to purchases of a scanner and coffee pot with city funds, as well as health benefits and a severance payment given to Loughry. Hill has denied any wrongdoing, saying the purchases in question were for his office at Basehor City Hall and that his actions regarding Loughry were authorized by the former administrator's contract and the city council.