Sporting Kansas City will be drafting in its own backyard Thursday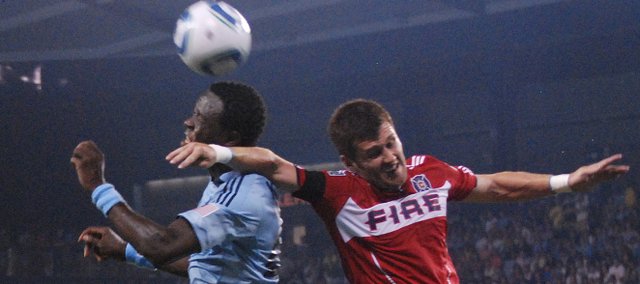 Kansas City, Mo. will be the site of this year's 2012 Major League Soccer SuperDraft where Sporting Kansas City and the league's other 18 teams look to add to their rosters.
Sporting Kansas City owns the 16th and 30th overall selections in the two-round draft, which takes place at the Kansas City Convention Center and will be broadcast live at 11 a.m. Thursday on ESPN2.
The draft is free and open to the public, but Sporting Kansas City has encouraged fans to arrive early because of limited seating. Fans may use a two-hour free parking pass at the Auditorium Plaza Garage. The draft will be held in the Grand Ballroom, located at the southeast entrance of the Convention Center, 301 W. 13 St., Kansas City, Mo.
The SuperDraft will be held in conjunction with the National Soccer Coaches Association of America's annual convention, which began Wednesday and continues until Sunday, also at the Convention Center.
Additional live coverage can be found at SportingKC.com and on the team's Twitter and Facebook pages. The Shawnee Dispatch will also have the latest on the team's selections.
Sporting Kansas City is no stranger to draft day success. Striker C.J. Sapong, after being selected with the 10th overall pick in last year's draft, went on to be named MLS Rookie of the Year after he scored five goals and recorded five assists. Sapong and forward Teal Bunbury — the fourth overall selection in the 2010 SuperDraft — helped lead Sporting Kansas City to the best record in the Eastern Conference last year before falling 2-0 to the Houston Dynamo in the conference finals.
Sporting Kansas City kicks off the 2012 season on March 10 at D.C. United. The first home game at LiveStrong Sporting Park will be the following week against the New England Revolution.