Colin Murphy's 23 points good for
BLHS

victory at Mill Valley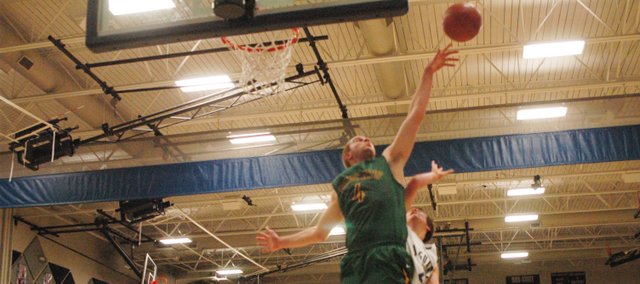 OTHER BOYS SCORES
• Bonner Springs 58, KC Turner 47
• SM South 43, SM Northwest 32
• DeSoto 67, Louisburg 36
• McLouth 71, Doniphan West 67
• Osawatomie 53, Wellsville 44
• Ottawa 49, Eudora 40
SHAWNEE, KAN. — Basehor-Linwood continues to suffer from what coach Mike McBride calls the 'Summer Effect'.
It is still measuring all of players' performances to the 74-66 victory against Sumner Academy on Jan. 4 where McBride feels they played their best basketball of the year in the first half.
This might be a high standard, but this is what the Bobcats feel like they need to do to continue to improve this season.
They took another step in the right direction tonight by going into a difficult road environment and taking down the Mill Valley Jaguars 67-51.
"We're definitely starting to trust each other a lot more," McBride said. "Out of the top 12 we've got four sophomores, four juniors, and four seniors. It takes awhile, but we're starting to trust each other."
Among those 12 players, senior Colin Murphy has been near the top all year, and he proved it once again Friday finishing with a game-high 23 points.
"He's doing a little bit of everything," McBride said. "The thing were talking about right now is trying to play 32 minutes without resting, and he's busting it out there."
Not only did Murphy prove to be effective on the offensive end, but also made a few crucial blocks. Both Murphy and his twin brother Ryan Murphy seem to have this effect on many teams' they face.
"He's turned into a pretty explosive player. The thing about both twins, Colin and Ryan the thing they understand is how to stay out of foul trouble," McBride said. "They'll keep their distant and find a way to challenge shots."
Despite the significant height disadvantage, Mill Valley (5-3) hung in with Basehor-Linwood for much of the first half thanks in part to junior Nathan Stacy.
However, the Bobcats continued to extend the lead to 32-22 going into the halftime locker room.
In the second half, BLHS came out with a purpose and extended their lead to 54-35 by the end of third quarter.
The main reason for this was Stacy absence on the floor. He picked up a fourth foul the third period and then fouled out at the 7:01 mark of the fourth quarter leaving a big whole for the Jaguars.
"When you take 22 points off the board and things change for you, but if he didn't play it we would be the same thing," Bogart said.
"After Nathan went out our guys didn't come back to the huddle and didn't panic. They just knew they needed to step up."
Stacy finished the game with 10 points.
Even with Stacy out, MVHS continued to fight hard, but Basehor's size began to wear them down.
"They take all the right shots," Bogart said. "They past the ball so stinking well, and they are very even keeled on that floor. They're always emotionally right in the game. "
Stepping in for Stacy was an underutilized player so far this year. Sophomore Drew Boatwright took advantage of Stacy's hardship and showed impressive burst near the rim. He ended up coming off the bench and contributing a team high 19 points.
"He's got an element about him that we've seen in practice a few times," Bogart said. "He does a nice job in games."
One of the most physical players for the Bobcats tonight was junior Ben Johnson who finished with 18 points.
A player who spent much of last year around the perimeter, Johnson has been focusing on having more touches in the paint.
"The thing is he likes to wander a little bit," McBride said. "We used him at guard last year, I think he took that a little bit wrong. We've been working hard in practice getting him straight to the block."
Now with a 7-1 record, the Bobcats hope to remain consistent throughout the year. If they do that their ultimate goals will come right along with that.
"That's all we're talking about is working," McBride said. "We'd like to play a couple more games like we did in the first half against Sumner just to taste it again, but if they keep working like they are now, then we're going to be where we want to be at the end."
Mill Valley's next game is scheduled for Thursday when it plays in the Interstate Basketball Classic. Basehor-Linwood will be hosting the Bobcat Invitational next week.