County inviting cities to discuss future of airport project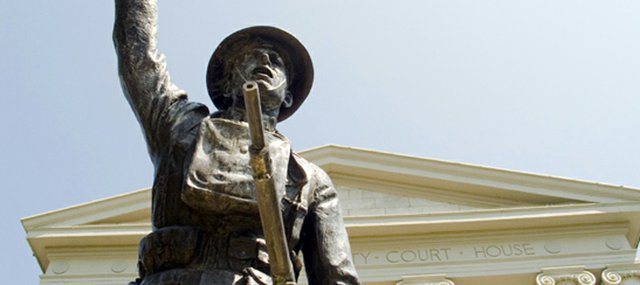 As Leavenworth County Commissioners decide whether and how to proceed with studies into a possible new airport in the county, they will invite officials from the county's four biggest cities to chip in their two cents.
The commissioners said Thursday they would ask officials from Tonganoxie, Basehor, Leavenworth and Lansing to meet to help decide how to move forward on the airport project. Their discussion came after Leavenworth city officials said earlier this month they may oppose the possible airport site near Lansing recommended by a consulting firm last year.
Commissioners did not say when the meeting with the cities might take place.
Before proceeding with two remaining airport studies required by the Federal Aviation Administration, the county and cities have to determine which entity will serve as a sponsor for the potential airport and which possible site to study further, Commissioner John Flower said.
Though Coffman Associates, a Lee's Summit, Mo., consulting firm, recommended a site near 127th Street and Gilman Road east of Lansing for a future airport, city of Leavenworth officials said this month they may prefer a site off Coffin Road nearer to Leavenworth and Fort Leavenworth.
The consulting firm ranked the Coffin Road site second out of three finalists. Commissioner Clyde Graeber said that a new airport near Fort Leavenworth might help the post remain a big economic force even if the federal government looks to cut back on defense costs.
"An airport close to Fort Leavenworth would be a plus for the retention of that site as a very viable military operation, wouldn't it?" Graeber said.
But Flower said that if the Coffin Road site was chosen, the city of Leavenworth and not the county should serve as the project's sponsor and provide the bulk of funding for the remaining studies and eventual construction. Commissioners have discussed combining a new airport with an industrial park to maximize economic development, and the Coffin Road site northwest of Leavenworth would be a poor location for shipping trucks to travel to, Flower said, as they would mostly come from the south.
"Why would I, as a trucker, want to negotiate Lansing and Leavenworth and on out to a site north of Leavenworth?" Flower said.
An official from the consulting firm said in August that the best attribute of the Gilman Road site near Lansing was its easy access to Kansas Highway 7 and U.S. Highway 24-40.
Commissioners have said the county would not purchase land for the construction of an airport without a countywide vote on the issue first, and Flower repeated that pledge Thursday.
"We will neither buy land or dig dirt until a vote of the people has been taken as it relates to the county participating in the funding of an airport," Flower said.
Leavenworth County has contributed about half of the local funding for the two airport studies conducted so far, with cities providing the other half. Leavenworth city has provided about 30 percent of the funding, Lansing about 10 percent, and Basehor and Tonganoxie about 5 percent each. The county and cities have spent about $107,500 on the studies so far.
More information about the studies conducted by Coffman Associates is available at leavenworthcounty.airportstudy.com.