Defensive adjustments key for
MVHS

girls 50-25 victory against

BLHS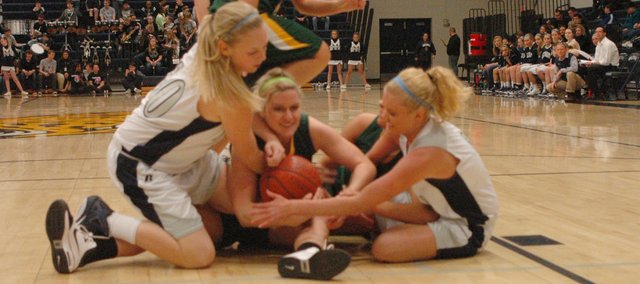 ON DECK
Mill Valley High School girls basketball (5-3) travels to Turner High in Kansas City, Kan., on Friday. Tipoff is scheduled for 7:30 p.m.
Follow @ShawneeDispatch and the hashtag #ShawneeSports on Twitter for the latest updates.
Going into halftime, both Mill Valley and Basehor Linwood looked to be in position to grab ahold of victory.
However, the Jaguars were not satisfied with their performance on the defensive end of the floor.
So they decided to play the Bobcats in a straight up man-to-man defense.
It paid off because Mill Valley (5-3) held Basehor-Linwood (3-6) to eight points for the entire second half en route to a 50-25 drubbing.
"I felt all along that this was a group that could guard and they've certainly proven that they can guard," MVHS coach John McFall said.
The Basehor-Linwood side of the court was equally amazed at how their offense completely stagnated.
"Their defense just flies everywhere," BLHS coach Noah Simpson said. "Our offense helped perpetrate that tonight because we didn't shoot the ball."
That was the amazing part of the second half, particularly in the third quarter. The Bobcats only managed a handful of shots.
"We just put a lot of pressure on the ball," Mill Valley junior guard Tanner Tripp said. "We got pumped up during halftime and, just, we knew what we had to do, and went out there and did it."
Tripp's tenacity on the defensive end is one of many qualities putting her in the starting rotation for the Jaguars.
"Tanner is one of those girls where, defensively, she doesn't always do the things I want, but she gets her hands on a lot of basketballs," McFall said.
Tripp was both effective on the defensive and from behind the three-point line and attacking the glass. She finished with a game-high 17 points.
Although she had an impressive overall performance, Tripp credits her teammates for a lot of her success.
"My teammates get me open a lot. It's not just me," she said. "They get me the ball all the time when I'm open, and I just shoot it."
Junior forward Stephanie Lichtenauer also played some key minutes for the Jaguars and was able to tally 12 points by the end of the night.
After opening up the season with three difficult tests, the Jaguars have bounced back nicely to become one of the contenders in the Kaw Valley League.
"We opened with a tough stuff stretch, but again, that's why I chose to play them, because that's who you've got to beat to be good," McFall said.
With only 25 points, Basehor-Linwood did not have many players lightning up the scoreboard.
Their highest scorer of the night was junior Jamie Johnson with eight points.
"Our whole thing is to see where we're at and see where we need to be," Simpson said.
The Bobcats hope their underwhelming offensive will be corrected quickly.
"We're still not looking to score," Simpson said. "We're still looking to do everything in the offense perfectly, but forgetting the most important thing is putting it in the basket."
Basehor-Linwood does not have long to correct these mistakes either. The team has one practice this weekend before facing off against St. Joe Benton on Monday.
"It's so early in the season. It's a learning experience for everybody, and the main thing is to keep our focus for the last part of the season and continue to try to get better every day," Simpson said.
Mill Valley, on the other hand, has the weekend off as it rests up before playing Turner next Friday.
Until then, coach McFall hopes the girls realize how they can build off this victory for the rest of the season.
"What my measuring stick is the next game," McFall said. "We'll just measure things as we go along."