Deegan scores 19 on birthday, leads
BSHS

girls to commanding win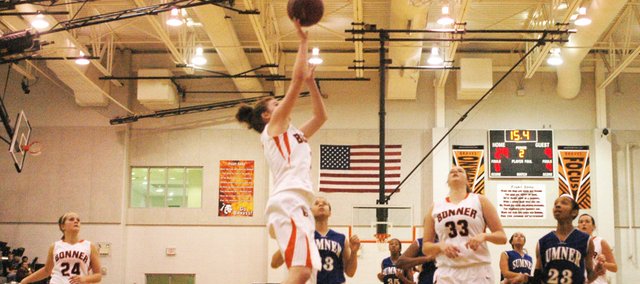 #TechnicalDifficulties
Column: Sports editor Stephen Montemayor finds that, while there's not always cell or Internet service, there's always a game (and a story).
For Yessenia Hernandez, Bonner Springs' last game apparently hadn't yet ended. It was still the fourth quarter when the next one — a 58-28 victory against Sumner Academy — began.
A fire still needed stoking.
So the senior point guard came out and forced two quick turnovers that translated to an early 4-0 advantage, beginning a shutout that would extend for much of the first quarter, develop into a blowout and become a chance to remain perfect for one more night.
Bonner Springs needed this. It needed this after falling behind 18-6 in the first quarter last Friday against Turner. It needed this when it stared down a 25-17 halftime deficit that same game, needing to readjust in a major way lest its perfect start to the season be halted.
Those first two baskets would actually be Hernandez' only points of the game. "We've talked about more focus on getting the ball to the rim," Oakes said of his four-year starter. "She's not been attacking as much this year."
Hernandez still caused problems for the Sabres, forcing turnovers and threading their defense with on-point passes — she finished with five assists.
It's little wonder, then, that Oakes would call this the first "complete game" the Braves have played this season.
"It's the best we've played all year," he said.
This came at the right time, Oakes said, as the Braves prepare to compete in the Top Gun Tournament next Wednesday against Wellsville. Like against Sumner, Bonner Springs will be the heavy favorite and Oakes is counting on another opportunity to test his team's focus should the score get out of hand. It may need that focus should it advance as potential foes St. Mary and Spring Hill may pose as stiff a challenge as the team's faced all season.
As family members flashed a large "Happy Birthday" sign in the bleachers, junior guard Anna Deegan celebrated her 17th with style, scoring a team-high 19 points and eight rebounds. It was a performance the Braves have come to expect from Deegan, who entered Thursday leading the team with 14 points-per-game.
Deegan struggled to find a rhythm early, turning the ball over twice. Still, she finished with nine first-half points, and went on to convert 6-of-9 free throws down the stretch in the second-half.
"When she does something wrong, she takes it personal," Oakes said.
Added Deegan: "I definitely got down on myself. But my teammates were positive and they brought us all back up."
Senior center Erica Wilson added 10 points, most of her baskets coming from the paint, which was an especially physical environment Thursday. Senior forward Emily Wilson and junior guard Cassady Holloway each added eight points. Junior guard Haley Hoffine added seven rebounds and led the Braves with six assists.
The Sabres were led by junior power forward Jamie Redic, who scored 11 points. Redic and senior point guard Ashleigh Byers each scored the game's only three-point goals.
After the game, Deegan sucked on a wintergreen mint, smiling and chatting with her family at the foot of the bleachers.
"It was a good day," she said. "But it was also a good day as a team."
Deegan's family still waved her "Happy Birthday" sign.