Bonner Spring earns Baldwin Invitational title with 47-32 win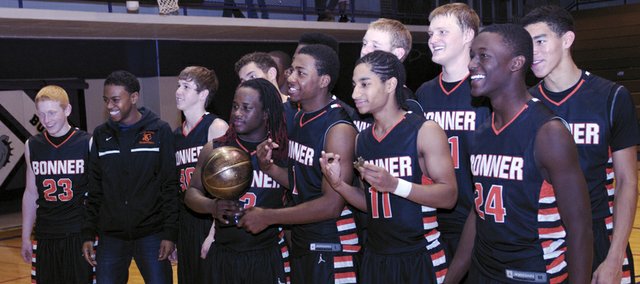 The Bonner Springs boys basketball team weathered several runs, but ultimately held Baldwin High at bay, winning 47-32 in the final of the Baldwin Invitational tournament.
Two early free throws gave Baldwin (8-3) its only lead of the game at 2-0 before Bonner Springs (8-3) went on its 11-1 run. The Bulldogs didn't record their first field goal until a three-point shot seven minutes in.
It was a game largely characterized by runs and, conversely, droughts. In the first half, the Braves built leads of eight- and seven-points, only to see them shrink to three. But long scoring droughts — and multiple turnovers — committed by Baldwin allowed Bonner Springs to swell its lead once again.
"Defense won the game," Bonner Springs coach Andy Price said. "Anytime you can hold a quality team to two points in a quarter, you're playing good defense."
It was all but over after Baldwin scored just two points off a pair of free throws in the third quarter. Even when the Bulldogs started challenging the Braves' lead yet again, a pair of three-point shots by Jordan Jackson and J.J. Jackson in quick succession quickly put a stop to any momentum the home team had started to muster.
"Those were big," Price said.
The back-to-back threes, though they kept Bonner Springs firmly in control, still put Price on the edge of his seat.
"They made things a lot more comfortable for us," he said.
Baldwin put together back-to-back nine-point quarters to start the game, but when Bonner Springs held the Bulldogs to a two-point third quarter, momentum remained in the Braves' possession.
Still, Baldwin didn't go away easily in the fourth, scoring 12 points to Bonner Springs' 15 points.
"It was a competitive game," Baldwin coach Dustin Loechner said. "It was more competitive than the final score would indicate."
Bonner Springs coach Andy Price agreed, praising the Bulldogs' defense.
"During timeouts, our guys said they were frustrated because they couldn't do want they wanted on offense," he said.
Price pointed to the eight seniors on his club and the many sophomores playing important minutes for the Bulldogs.
"They'd been there before," he said of his seniors. "I think that was the difference."
Brett Steuart led the Braves with 15 points, including six straight field goals, to close out the game. B.J. Watson added 11 points for the Braves, Jordan Jackson scored eight and J.J. Jackson added seven.
Steuart and teammate Watson were named to the 10-member all-tournament team, as were C. Brown and Caleb Gaylord of Baldwin.
Others so honored were Jason Stoneking, Anderson County; Brandt Patterson, Augusta; C.J. Vallejo, Bishop Ward; Jack Steadman, K.C. Christian; and Austin Johanning, Perry-Lecompton.
Bonner Springs returns home to play host to William Chrisman High School, Independence, Mo., at 7 p.m. Friday.