Body's ideal movement focus of new chiropractor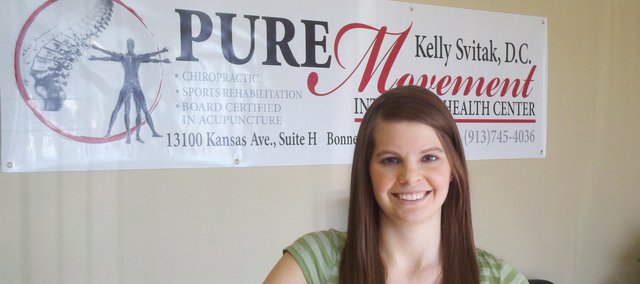 Kelly Svitak says her goal as a chiropractor is to treat the whole body, not just one problem area.
"Trying to really idealize the body's movement — try to find where the problem is and fix that," Svitak said.
That's why she decided to call her new chiropractic practice Pure Movement Integrated Health Center. The center opened Jan. 16 at 13100 Kansas Ave., Suite H., and will offer sports rehabilitation and acupuncture in addition to chiropractic services.
Svitak, who is from northeast Kansas near Baileyville, lived in the St. Louis area for the last few years. There, she attended Logan Chiropractic College. When she and her husband moved back to the Kansas City area last October, she began looking for a place to open her own practice.
Because she comes from a town of about 200 people, she wanted to stay away from the more heavily populated areas.
"I didn't want to be in the big city so much. I kind of wanted to be in an area that had a little more of a small town feel," she said.
Her sister lives in Edwardsville, so Svitak contacted the Bonner Springs-Edwardsville Chamber of Commerce and decided Bonner was the right fit for her.
Svitak had her own positive experience with having spinal adjustments as a volleyball player in high school, but it was her sister's experience that made her decide to move into the profession.
Svitak said her sister had ulcerative colitis, a disease that affects the large intestine and immune system. She went to several doctors who put her on high levels of medication that weren't helping her pain. So she started going to a chiropractor as well as an integrated health center for nutritional treatments in Wichita.
"Between those things, she eventually started to slowly get better, and she's not on any medications today, which usually, that's a disease where you're on some sort of maintenance medication all the time," Svitak said.
Svitak said her main area of interest is sports rehabilitation. And acupuncture is something she became interested in while in chiropractic school. She is board certified in acupuncture in Missouri. Kansas does not require certification.
Pure Movement is open for varying hours Monday through Wednesday and Fridays, and is available by appointment only on Thursdays and Saturdays. Pure Movement can be contacted at 913-745-4036 or online at pmihckc.com.