Family quilts on display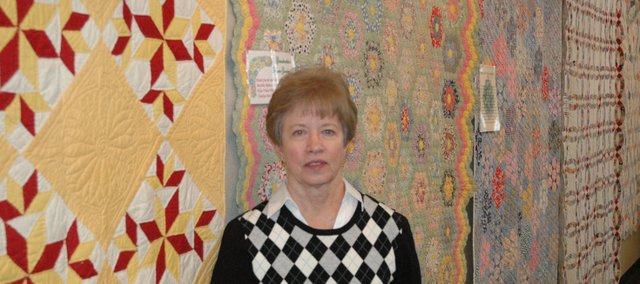 Charlya Cooley has always felt connected to her mother, grandmother and aunts through the quilts that can be found either in use or carefully folded in storage in her home.
And through the end of January, patrons at the Bonner Springs City Library can view these historical examples of Midwestern quilts, which Cooley loaned to the library's art display area. The five quilts were all sewn or partially sewn by hand by the Bonner resident's relatives.
Cooley got the quilts from her mother, with the exception of the "double wedding ring" quilt, which one of her aunts made for her in 1969. The rest were all created in the 1930s by her grandmother and her aunts.
"I guess that was her pastime, her hobby — they didn't have hobbies then, probably," she said. "All the ladies probably quilted."
Though she knows that, historically, women often gathered to quilt as a social event, Cooley said her aunts did not use their quilting time for gossip.
"In the afternoons they would sit down and quilt, one at one end and one at the other end, and they wouldn't say a word to each other — at least, that's what my mother said," Cooley said.
One, a "morning glory" pattern, was designed and partially sewn by her mother in 1938, but Cooley said her mother tended to use her sewing talents for dressmaking, instead.
Cooley quilts some herself and belongs to a quilting guild that meets in Mission, but she said she doesn't have the talent for quilting by hand that her relatives had.
The quilts are a good example of how farm families used and reused materials, Cooley said. Most of the quilts were made from scraps, as quilts often were, and Cooley believes the "grandmother's flower garden" patterned quilt on display was made from feed sack pieces cut into hexagons.
Cooley has been surrounded by her family's quilts throughout her life.
When she was a child, one of her aunts made "sunbonnet Sue" quilts for Cooley's bedroom and a turtle quilt for her brother's bedroom. She uses about five of her family's quilts regularly in her home, but the five on display are more carefully stored.
"It's nice to have them up on display here, because I don't have any place at home to hang them up like this," Cooley said. "… My aunts and my grandmother would be surprised that their quilts are on display somewhere."
Cooley folds the quilts using a special acid-free tissue paper in the creases of each fold and then wraps them in sheets or pillowcases before storing them.
"It's quite a job to fold them and put them back," she said.
She's never had them appraised, but Cooley knows that buying a new hand-sewn quilt can cost several hundred dollars. But she said the sentimental value, not the monetary value, is what makes her take such care with them.
"I think it's really great to have something like this to remember (her), because my grandmother died when I was 2, so I really didn't know her," she said. "The only way I knew her was by the stories my mother told."