Former
BLHS

 lineman ready for next chapter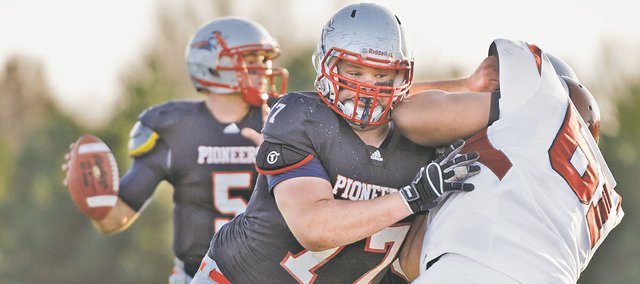 It's mid-afternoon and Swede Johnson is between classes at MidAmerica Nazarene University.
It's his last semester before he walks with his classmates, some of which he used to revel with this time of the week: Hump Day, the week's midpoint and sign that the hard work at football practice was about to pay off. Johnson — a 2008 graduate of Basehor-Linwood High School — and his fellow offensive linemen used to recite a chant to commemorate the day.
"Can we get a 'Hump Day?'"
"Hump Day!"
"Orca!"
"Eee!"
"Buffalo!"
"Moo!"
"Pioneers on three!"
The last such chant occurred just a few months ago after it finished ranked fourth in the National Association of Intercollegiate Athletics. The team fell just short of its national title hopes with a playoff loss to eventual national champion, St. Xavier. Still, Johnson closed his career on a high note: At year's end, he was named a first-team NAIA All American.
"It was a great honor to be recognized in my last season," Johnson said.
Johnson had an uphill climb just to get on the field last season. The previous year in the first round of the playoffs, Johnson went down with what was thought to be a meniscus tear at the time. When he went in for surgery, doctors discovered that he had actually torn his anterior cruciate ligament and would need to return for more surgery.
He missed spring scrimmages and practices, but returned in time for summer conditioning and even earned a host of preseason honors.
Johnson still may participate in a professional draft combine in the spring, but at present he's ready for his life's next chapter. Later this year, he will complete a degree in criminal justice. He's already applying, trying to get his foot in the door at a metro-area police department.
"I'm looking forward to the brotherhood and team aspect," he said. "It's nice to know someone has your back."
Already, Johnson begins to draw parallels to football.
"A lot of police officers have played sports," he said. "It's just kind of a thing that fits in well with it."
Johnson would know what to expect from a career in law enforcement as his father, Tim Johnson, worked for the Wyandotte County Sheriff's Department before eventually teaching social studies and helping coach power lifting at Basehor-Linwood.
Johnson knows that wherever he'll go, he'll have to start off as a patrol officer and take his lumps en route to eventually becoming a K-9 officer.
"I'm OK with that," he said. "I have to learn the ropes first."
Perhaps it's appropriate that Johnson finishes his career a Pioneer. While at Basehor-Linwood, he anchored a team that returned the program to the postseason, where it has remained a consistent contender since his departure.
Those years are also the source of one of his favorite football memories, certainly one of his favorite memories as a Bobcat. In a game against Piper his senior year that would determine whether the Bobcats would make the playoffs, Johnson scooped up a fumble from his quarterback and ran 40 yards for a touchdown.
"It sure seemed like a lot longer than that when I was running," he said.
After he graduated in 2008, the mayor proclaimed July 26 "Swede Johnson Day" and Johnson went on to play in the Kansas Shrine Bowl.
Johnson's collegiate career also included two years at Butler Community College, where he earned a national championship ring his freshman season. And now, with consecutive national fourth-place finishes at MidAmerica Nazarene, Johnson will be keeping an eye on his team moving forward.
"This year we just built another foundation for the next year to hopefully win the championship," Johnson said.
That will be among the accomplishments Johnson will think about when he leaves. That and the realization that 3 p.m. practice was never the dreaded gauntlet players like to make it out to be.
"Looking back now, you knew it's that time of day when you go out with your friends and just play football," he said. "You didn't worry about school, you didn't worry about work, you just went out and have fun."
With that, Johnson was back off to the daily grind of class. Hump Day was almost here.