BSHS

boys coach Andy Price to resign after season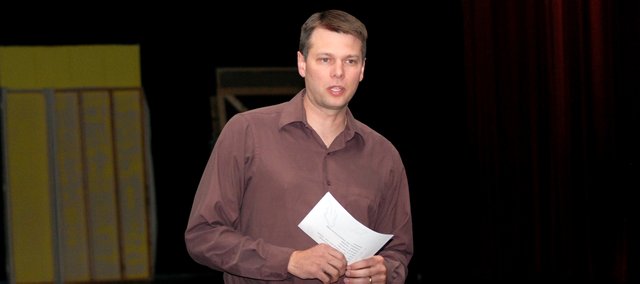 Just the other day, Bonner Springs boys basketball coach Andy Price was watching film of his team's 68-61 loss to Basehor-Linwood earlier this month.
"We need to find a way to box them out," he said. "They're bigger and stronger on the inside."
He was referring to his team being outrebounded 13-3 on offense and how giving one of the league's best teams that many chances kept the Braves from ever grabbing the lead.
This time of year, Price said, coaches get tired, too. But now Price said he has extra incentive to make everything count. This year's his last shot.
"Kind of like my senior season, too," Price said.
On Monday, Price, the second-winningest boys basketball coach in Bonner Springs history, informed the USD 204 Board of Education that he will resign this spring.
Price is in his seventh season as head coach and 13th year working for the school district, where he has also served as assistant I.T. director. Price will be leaving Bonner Springs to accept the I.T. director position with the Ottawa school district.
Price's resignation will be effective March 30, Bonner Springs administrative assistant Kathi Wilhite said.
Price said he interviewed for the job over winter break and was offered it two weeks ago with one week to think it over. Ultimately it came down to choosing career and family for Price. Ottawa wanted Price to begin as soon as possible, but he vowed to continue what's now his final season as coach.
To receive USD 204's consent to end his contract before the end of the school year, Price said he had to resign and have his resignation approved by the school board.
Before Monday's meeting, Price informed his players of his plans at the beginning of practice.
The team had just won the Baldwin Invitational and Price said he couldn't sleep at night, tossing and turning and thinking about how the boys would take the news. But they understood, he said, and took it well.
Price has had a big hand in developing Bonner Springs' eight seniors. Now he's one of them.
He won't be coaching basketball after this season — well, aside from his 7-year-old son, Tyler.
He's had to make this decision before, choosing to spend more time with his wife, Aimee, and a then 2-year-old Tyler, in 2006 after compiling a 66-42 record through five seasons with the Braves. Two years later, Price was back at the helm and coached the Braves to a 15-6 finish and 8-5 KVL record.
Price first became head coach at Bonner Springs in 2002 and has won two Kaw Valley League titles.
He said the team's still under the radar, but at 10-3 with close losses to the league's other two powers, Lansing and Basehor-Linwood, the Braves are very much a team to contend with. A Feb. 7 rematch against Lansing at home and a Feb. 24 trip to Basehor-Linwood still await.
Price's 91-51 career record at Bonner Springs has him second on the all-time wins list.