Judge denies Basehor mayor's request to put recall election on hold
Lengthy appeal process could await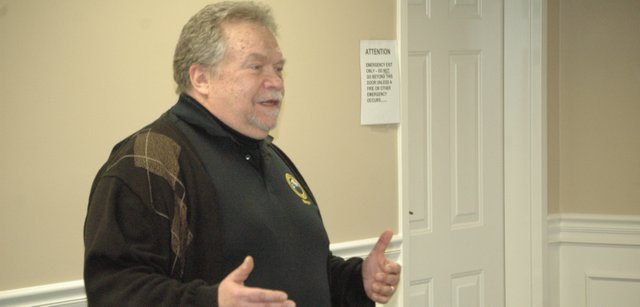 New voter ID rules
The Basehor recall election Feb. 28 will be the first Leavenworth County election to be subject to the voter ID law passed by the Kansas Legislature in 2011.
Beginning with this election, each voter will need to show a photo ID before voting at a polling place. Each voter requesting a ballot by mail must write down his or her driver's license number on the form or send a copy of a photo ID. Voters 65 or older may use expired documents.
For more information about the voter ID requirements, visit the Kansas Secretary of State's website at sos.ks.gov, or call (800) 262-VOTE.
Leavenworth — A judge Thursday denied Basehor Mayor Terry Hill's request to put his recall election on hold until an appeal is heard.
The mayor, though, said he would continue to fight the recall in front of a higher court. That means the issue could be mired in court for quite some time — perhaps even past April 2013, when Hill's four-year term as mayor will end.
That was one reason Leavenworth County District Court Judge David King denied Hill's request, the judge said during a hearing Thursday. Delaying Hill's recall election until his appeal is settled, the judge said, might effectively be the same as canceling it altogether, as the appeal process could be lengthy.
Hill, though, said after Thursday's hearing that he would continue to seek a delay from the Kansas Court of Appeals, where the case is headed next.
Earlier this month, the judge ruled for Hill's recall election to proceed, but Hill is appealing the ruling. The mayor contends that his recall petition did not cite sufficient grounds for his removal from office.
With less than two weeks remaining before advance balloting begins for the Feb. 28 Basehor recall election, Leavenworth County will proceed with Hill on the ballot along with Basehor City Council members Dennis Mertz and Iris Dysart, county clerk Janet Klasinski said after Hill's hearing Thursday.
Advance ballots for the election will contain Hill's name, Klasinski said. If a higher court halts Hill's election before Feb. 28, she said, votes for or against Hill simply won't be counted.
After the hearing Thursday, Hill said some people had advised him to put the issue of his recall in the hands of Basehor voters and let the election proceed. But he had decided to keep fighting, he said, because he feared some residents might vote for his recall based on an accusation that he had misused public funds while making purchases with a city credit card, which he said is untrue.
"That's what caught their attention, and that's what has legs, is, 'The mayor charged a whole bunch of stuff he wasn't supposed to charge,' " Hill said.
The judge earlier this month said the recall petition did not show that the mayor's credit card purchases amounted to misuse of public funds, and he ruled that the allegation could not be posted at recall election polling sites.
If the county were forced to conduct a separate recall election for Hill rather than adding him to the Feb. 28 ballot, it would increase costs by about $2,600, Leavenworth County Counselor David Van Parys said in a court document earlier this month. The city of Basehor will foot the bill for the recall elections.