Basehor City Council eyeing pay bump for employees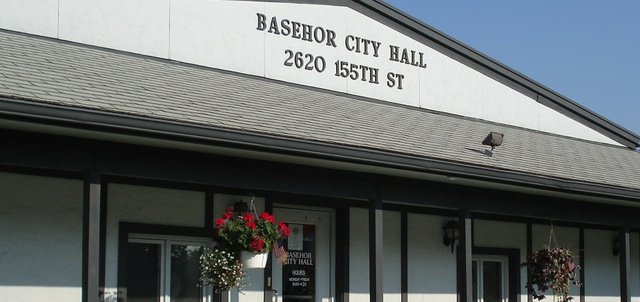 The Basehor City Council is poised to back up its talk about giving city employees a bump in pay.
Council members at a work session Monday signaled support for a 2013 pay proposal providing more than $90,000 in salary increases that skew toward lower- and mid-level workers.
The plan was created by Interim City Administrator Lloyd Martley along with council members Brian Healy and Vernon J. Fields, after Mayor David Breuer tasked them last month with studying employee pay.
"What we're trying to do with this is just realign the salaries that we feel are out of line with our competitors," Martley said Monday.
The plan would give all city employees a 2 percent cost-of-living pay increase, along with additional bumps for all of the city's full-time low- and mid-level workers, ranging from about $1,000 per year to about $4,500 per year. Most would receive about a $2,000 increase, and most work in the police department.
Those adjustments are based on a survey of workers' pay in surrounding cities — cities that range in size from Tonganoxie and Bonner Springs to Overland Park and Kansas City, Kan.
"We're going to at least get people raised to a point where, in comparison to the other cities in this area, they will be competitive," Healy said.
Healy, Fields and Martley also proposed a new salary structure that would include performance-based increases. The city has not used performance evaluations to determine pay in several years, Martley said, instead relying on a matrix that awarded 2.5 percent increases every two years regardless of performance.
"There was no differentiation between a really good employee and just an average employee," Martley said.
The new pay system would increase the maximum possible pay for the city's department heads by as much as $28,000. But the proposed salaries in the 2013 pay plan would put those department heads on the low end of their pay scale, with a number of performance-dependent steps required before they hit their maximum.
For 2013, Healy said, the city's upper-level employees agreed they were comfortable without any pay adjustments beyond the staff-wide cost-of-living increase.
"They brought that to us voluntarily," Healy said. "We didn't ask for that."
Council member Travis Miles said he'd support even greater pay increases for some positions than what was presented, for police officers and mid-level supervisors in the public works department.
Healy said he agreed that wages could be more competitive, but it would take several years to bring them up to that level.
"You can't take the entire apple at one time," Healy said.
Altogether, the proposed 2013 plan would increase wages by about $94,000, assuming all positions are filled for the entire year. Breuer asked the staff to present two wage plans — the one presented Monday and one with the additional increases proposed by Miles — at the council's July 16 meeting for possible inclusion in the city's 2013 budget. The long-term pay changes — the introduction of performance reviews and new salary ranges — will require additional study before they can be approved, Healy said.
Also during the work session Monday, council members discussed a possible study of the city's sewer rates.
About 18 months after the council voted to increase residents' sewer rates by about 40 percent in order to repay state loans on the city's wastewater treatment plant, the city's sewer fund is already projected to become insolvent by 2015, according to a report from City Clerk Corey Swisher.
Slowed growth has resulted in fewer connections to the city's sewer system in recent years, Swisher said, causing the sewer fund to fall short of projections.
Breuer said the council could contract with a financial adviser for a study to determine what to do with the city's sewer rates. But, he said, previous councils did not follow the recommendations of a previous study, opting not to raise rates during the high-growth years of the mid-2000s, and that contributed to some of the fund's current problems.
"If you don't do what the study says, then you might as well not do it," Breuer said.
The city's financial adviser, Springsted Inc., has offered to perform a utility study for $12,600.