Veteran shares
WWII

tales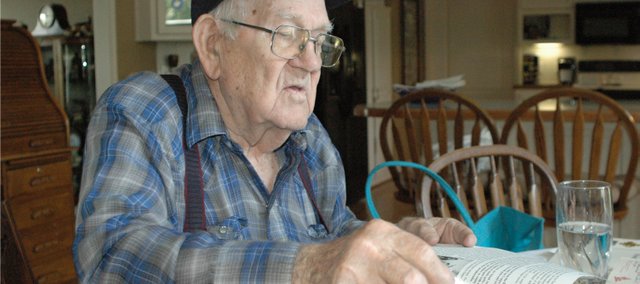 There is a monument at Wright Patterson Field in Ohio that carries words Gene Ward knows well — words that describe the 449th Bombardment Group.
"A group of men, who rode the wind together in the crimson skies of a world ravaged by war with purpose and precision to perform heroic acts of cool valor and unqualified trust in each other," it reads.
Ward flew 50 missions with the bomb group in World War II, and the 90-year-old Bonner Springs resident proudly reflects on his service on days like Memorial Day and Independence Day. He rattles off details of the B-24 and other planes of the war and tell funny stories about his fellow corpsmen driving Jeeps through the mud and "being crazy."
But he also remembers the 103 planes from his bomb group lost in combat, the 388 men killed in action, the 363 shot down and captured. He remembers the respect soldiers got when they returned home.
"In World War II, when you came home, you did not get out of uniform," he said. "You were to stay in uniform anywhere you went — that way, people could recognize what you'd done."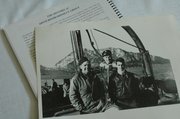 Ward was born in Linwood on his grandfather's farm. His family moved closer to Bonner in 1934, but he continued on at Linwood High School, where he graduated in 1938.
His brother, two years his senior, went into the Navy by choice, going on active duty Dec. 15, 1941 — a week after Pearl Harbor was attacked. Ward worked locally at the Bonner lumberyard and then Sunflower Ammunitions Plant until he was drafted Aug. 28, 1942.
He was assigned to the Army Air Corps and went to aviation mechanics school, advancing to technical sergeant by the time the 449th was leaving Bruning, Neb., for its assignment in the 47th Wing of the Fifteenth Air Force in Grottaglie, Italy, on the Adriatic Sea.
There were four squadrons in the 449th, each with 15 planes; Ward was in the 718th squadron on the plane dubbed "Everybody's Baby."
The old dirigible balloon base where they were stationed had been heavily bombed and didn't have much in the way of housing. The men slept in tents and had to take a truck 20 miles to shower. One of Ward's favorite stories is about some of his fellow corpsmen getting creative with supplies on hand to create a heater — and nearly blowing up their tent.
Their mission was to interrupt the German fuel supply, so they often bombed cities such as Bucharest, Vienna and Ploesti, Romania.
There were lots of close calls for "Everybody's Baby" — once, the plane was so battered by flak it returned with 150 holes in it.
It was lucky to make it through the German anti-aircraft fire. Ward remembers seeing flak blow up an engine of another plane, and watching as only about half of the crew was able to bail out.
"You couldn't shoot back at it, so it made you all the more scared," he said. "In that top turret, I'd sit there, and it would blow up like black smoke… You'd see it coming up through the planes, and you'd think 'Oh, by God, they've got us.'"
And then there was the closest call. On April 4, 1944, Ward's crew was among 28 planes to fly on a mission over Bucharest with no escort, when they were attacked by more than 60 enemy fighters.
"We were right off the lead plane of the colonel, and you could see them coming at us up in the sun, and then suddenly, you couldn't see them," he said.
Ward received his only injury on that mission, as he looked out of the plane's top turret. Something blew up near the top of the plane and hit his face, breaking his oxygen mask. It was fortuitous that he moved below immediately; he later realized his vest was full of flak.
The blow to his head sent him to the hospital for several days, but it could have been worse: Seven of the planes on the mission didn't return to base.
He left Italy in June 1944, and continued in the Army Air Corps training new flight crews until he was discharged on Sept. 18, 1945.
As World War II veterans continue to pass on, there aren't as many to remember — of the 11 men who served on his plane's crew, Ward is one of three still alive.
But he says he passes his stories on to his children and grandchildren, and he keeps his memory fresh with the many books and histories written about his bomb group.