A strong team:
BLHS

teacher, student collaborate on children's book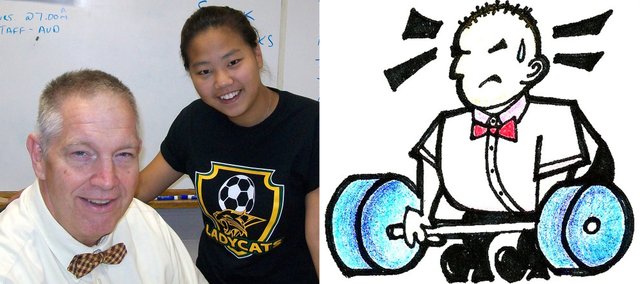 Teacher and coach Tim Johnson needed a way to make weightlifting seem fun and interesting to 9-, 10- and 11-year-olds. He found his answer in an unexpected place this spring: a South Korean exchange student from whom he'd hardly heard a word all year.
Johnson, a U.S. history teacher and assistant powerlifting coach at Basehor-Linwood High School, and student Mi-Ji Lee teamed up to produce "Powerlifting," a children's book that Johnson is distributing to area schools and libraries. Johnson wrote the words, and Lee drew the illustrations.
The idea for a children's book about powerlifting, Johnson said, came from a desire to teach kids (and their parents) about the benefits of the sport before they reach high-school age.
"I realized a lot of people still don't know what our sport is," said Johnson.
BLHS has been a force in powerlifting in recent years, with the girls team winning five straight state championships and the boys taking home three consecutive titles.
But the real goal in getting more students to pump iron isn't to win trophies, Johnson said. It's to encourage them to be active and healthy at a time when exercise habits are dwindling for children and teenagers.
"We're not talking about sports, just healthy kids," Johnson said.
Johnson, who worked in law enforcement before he became a teacher four years ago, has some experience communicating with kids — he has spoken with children and youth groups at churches, and written several religious-themed children's books. He thought some colorful, cartoonish pictures might be a good fit for the book, but he didn't have an artist.
Then he saw an assignment that Lee turned in for his class, a mock World War I-era poster advertising war bonds.
The poster, drawn in colored pencil, featured a bald eagle and extensive use of red, white and blue, and Johnson was struck by its beauty, he said.
"She's just so talented," Johnson said.
Curious about what else she could do, Johnson asked Lee — who had talked rarely in class, he said — if she might be interested in creating some illustrations for his book.
Lee quietly said "OK," he said.
She provided the illustrations for free, as Johnson is not expecting to profit from the book. But she was thrilled about the opportunity, she said via email from South Korea, where she returned last month.
"It was the most interesting thing I've ever been asked (to do)," Lee said.
Drawing had long been a hobby she loved, something she does when she's a bit bored, she said. Johnson told her about some of the material planned for the book, and as soon as soccer season was over (she played for the Bobcat squad this season), she got to work.
A few weeks later, when she brought her drawings in for Johnson to see, he knew he had the artwork for his book, he said. Best of all was a caricature of Johnson himself, wearing a white, short-sleeved button-up shirt and red bow tie while straining to lift a barbell off the floor.
"She'd been studying me," Johnson said. "She was kind of making fun of me, but that was great."
Lee said that when she thought of Johnson, she thought of his trademark bow tie.
"I think it made the character really cute," Lee said.
The "Mr. J" caricature appears on the cover of "Powerlifting." But Lee's favorite illustration, she said, is a "muscly arm" that appears on the book's first page. Most of the drawings she'd done before had been portraits of famous people or family members, she said, but after she drew that bulging arm, she knew should could get the job done for the book.
"She just came up with those ideas," Johnson said. "I told her some things I wanted to represent in the book, and she just drew them."
Though she was quiet, Johnson said Lee quickly improved her English, "aced" his U.S. history class despite little knowledge coming in, and even laughed in class once when everyone wore Mickey Mouse hats and sang a song. Lee, who also sang in the choir at BLHS, said the experience was part of a great year.
"I think I'm never gonna have a fun year like this again," Lee said.
The "Powerlifting" book, intended for third- through seventh-graders, will be distributed to schools and libraries in Leavenworth and Wyandotte counties. The book is also available for purchase for $10 through mail order, to The Little Swedish Farm Publishing, P.O. Box 384, Bonner Springs, KS, 66012.