Basehor Outstanding Citizen winner a quiet but constant volunteer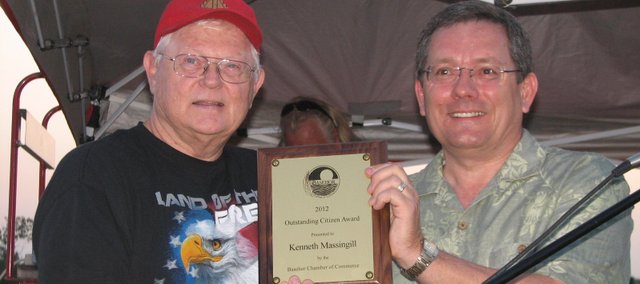 Past winners
Basehor Chamber of Commerce Outstanding Citizen Award winners:
1989: Beverly Dumlet
1990: Mary Ohler
1991: Susan E. Guy
1992: Samuel Kemler
1993: John Pfannenstiel
1994: Richard Warden
1995: Chuck Wilderson
1996: James A. Cook
1997: Allen Goens
1998: Anna Mary Landauer
1999: Robert Vervaecke
2000: Lena Mayberry
2001: Mary Leonard
2002: Bob Purtee
2003: Ferna Moser
2004: William Lewis Clark
2005: Roger Brandt
2006: Mary Ann Mogle
2007: Lila White
2008: Jeff Theno
2009: Carl Slaugh
2010: Don "Slim" Wilson
2011: Judy Goens
Ken Massingill looked down at the ground, the bill of his baseball cap obscuring his face.
Basehor Chamber of Commerce president Blake Waters had just named him the winner of the group's annual Outstanding Citizen Award. Waters asked Massingill if he'd like to say a few words to the crowd at the Basehor Fourth of July celebration behind Basehor-Linwood High School.
Massingill gave his head a shake and said quickly and calmly, "No."
That's who he is, said Carla Crawford, who has worked with Massingill for years at the Basehor Historical Museum. He's always one to help out, but not one to make any big speeches about it.
"He pretty much just stands in the background and doesn't like a lot of glitz or attention brought to himself," Crawford said.
During two separate stints as a Basehor resident, Massingill has helped lay sidewalks leading to the town's school buildings as a member of the local Lions Club, helped transform an old library into a history museum and pitched in by serving on the city's Board of Zoning Appeals.
Longtime resident Susan Guy listed all those instances of service in the nomination for the award that she submitted for Massingill.
"I think he just likes Basehor, you know?" Guy said. "This is his home."
He does indeed have an affinity for Basehor, he said, though he was unaware the town existed while he was growing up about 40 miles north in Atchison. But his roommate for four years at Kansas State University was from Basehor, and when Massingill came with him to visit his family, he liked what he saw.
"It's a nice, small town," Massingill said, "and yet in not very long you can be in Kansas City amongst anything or everything you'd like to find."
So in 1974, after four years of service in the U.S. Air Force in Tucson, Ariz., when he got a job as an engineer at the Kansas Department of Transportation office in Kansas City, Kan., Massingill settled in Basehor.
As part of the Basehor Lions Club in the early 1980s, Massingill helped lay the first sidewalks leading to Basehor-Linwood High School (then just Basehor High).
After his daughter graduated from high school in 1989 — as part of the first consolidated Basehor-Linwood class — he moved to Atchison, where he was already working at another KDOT office. But when it came time to retire in 2006, he came back to the town he loved.
Not long after that, in February 2007, he and his wife Pat attended a meeting of the Basehor Historical Museum Society, which was preparing to finally open its long-awaited museum after receiving a donated building on 155th Street that once housed the Basehor Community Library.
The group needed a treasurer, and Pat suggested that the newly retired Ken step in and help out. He accepted, and since then, Crawford says, he has been the society's hardest-working volunteer.
"He's my handyman," Crawford said. "When I need something constructed or can't get something figured out, he's right there."
Along with a crew of other volunteers, Massingill helped renovate the future museum building, which had a mold problem among other issues. Two to three nights per week for a year and a half, volunteers installed new sheetrock and installation, a new bathroom, new lighting and more.
"He's done things up there that he wouldn't do at home," Guy said with a laugh.
By fall of 2008, the museum was ready to open. Massingill still spends two to three days per week there, manning the shop during its open hours and helping with new exhibits. He now serves as the chairman of the historical society's board of directors.
"The whole experience has been real gratifying to me," Massingill said.
Managing the society's finances and working with his hands come easily for the former engineer, but he has also taken charge planning exhibits and conducting research, attending seminars and workshops about the art of running a museum.
"I've drug him all over probably a 50-mile radius on a couple research projects that we're doing," Crawford said.
There's a lot to learn about the Basehor area's history, Massingill said. For instance, the Glenwood Extension Homemakers Unit in the 1910s became the first of many mother-daughter canning clubs in the United States.
"There's a lot of things about this part of the country, this area, that I sure didn't know until we started putting some of this stuff together," Massingill said.
His passion and interest in the community are evident, Crawford says, and Basehor is better off for having him around. Even if he's a bit quiet.
"He's just been fabulous," Crawford said. "He's just been a wonderful volunteer."