Spotlight in higher education: Adults pursuing advanced degrees have options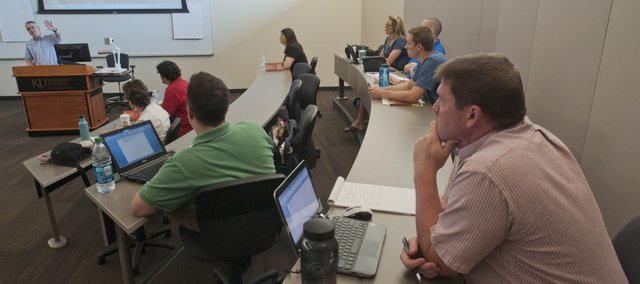 Reasons to get a degree
These are students' most important reasons for pursuing degrees at Kansas University's Edwards Campus, according to a 2011 survey conducted for the school by an outside research firm:
33 percent: More income possibilities
22 percent: Looking for career advancement/promotion
17 percent: Wanting a new career
14 percent: Personal enrichment
8 percent: Now have the time/money to complete my schooling
5 percent: Must keep up with the requirements at work
— Source: Kansas University Edwards Campus
When the executive director at his previous job departed, Rob Rawlings was hired to fill the spot on an interim basis.
"I got to be in charge of the entire place, and it was fantastic for me," says the Olathe resident, 42. But when the time came to choose a permanent director, his employer picked a candidate with an MBA instead. A couple of years after that, Rawlings was laid off.
Now with a new employer, Rawlings is pursuing a master's degree in hopes of firming up his job security.
"I should've done this 10 years ago," he says, "but I didn't have the time or, really, the direction."
Rawlings, who takes classes at Kansas University's Edwards Campus in Overland Park, is one of many adults who are choosing to go back to school to pursue an advanced degree. A number of area educational institutions offer graduate degree programs, many tailored to the needs of their respective geographical areas and their targeted students' busy schedules.
"There's a lot of competition in this area for adult learners," says Mary Ryan, associate dean of academic affairs at the Edwards Campus.
Not unlike other schools, Edwards Campus students come from all walks of life, Ryan says.
She says some want to go back to work after raising a family, some are happy in their current careers but want to be more effective in the workplace, and some — especially in the current economy — are career-changers.
At the Edwards Campus, where, Ryan says, numbers are similar to nationwide data, the majority of students say they're pursuing graduate degrees to advance their careers. Students also cite personal fulfillment and career changes among their top reasons for continuing their education.
"Having those additional degrees can really show your employer and also the field that you've joined that you are committed, that you have some expertise through that graduate degree," Ryan says.
•••
For graduate programs, many campuses change their game plans to accommodate adult students' busy lives.
"Many are married, many have children, many are juggling full-time work," Ryan says.
Helpful accommodations include night and weekend classes, online classes and satellite campuses.
At Baker University, each new student is assigned a staff member who monitors them as they progress through their chosen program, says Lena Rodriguez, vice president and dean of the School of Professional and Graduate Studies. She says the school also offers students a "hybrid" of class format options.
"We pride ourselves in being a high-touch, high-tech campus," she says. "We look to provide options to the working adult... Whether it be on the ground or online, we're very flexible."
Degree offerings at satellite locations also are tailored to the areas where they're located.
For Baker, that includes a nursing program based in Topeka and an MBA program in Overland Park. In addition to Baker's main campus in Baldwin City, other Baker graduate programs are based in Wichita, Kansas City, Mo., and Lee's Summit, Mo.
"All of those programs were developed because that was a need that came from a scan of what the community's needs were," Rodriguez says.
•••
Before making a decision to go back to school, prospective students should consider it carefully and talk to their families and employers, Ryan urges.
"This is going to be a major commitment in addition to your career and family," she says.
It can also be expensive.
Many employers sponsor students — 28 percent of Edwards Campus students are partially or fully sponsored by employers — but cost per credit hour is as much as or slightly higher than traditional four-year colleges.
Rawlings, who is married with two children, is halfway into his anticipated three-year program to get his MBA.
It has not been easy, he says, and he doesn't expect it to get easier.
Rawlings says he got an undergraduate degree in economics, with minors in Spanish and labor and industrial relations, from Kansas State University before joining the Army, where he worked as a linguist.
Being back in college while working at another full-time job is time-consuming and hard on family life.
"You're just in this constant juggling act," he says. "It's a very difficult experience, but it's good to challenge yourself and push yourself to do things instead of hanging out in that little comfort zone."
Rawlings believes his specific experience and abilities are a great fit for his current job with Neighborhood Housing Services of Kansas City, Mo.
To improve, he says, a good next step seemed to be getting an advanced degree, along with the knowledge and skills that come with it.
"It really is a job security thing for me," he says, "in hopes that it will provide some job stability."