Tonganoxie City Council pays tribute to Bard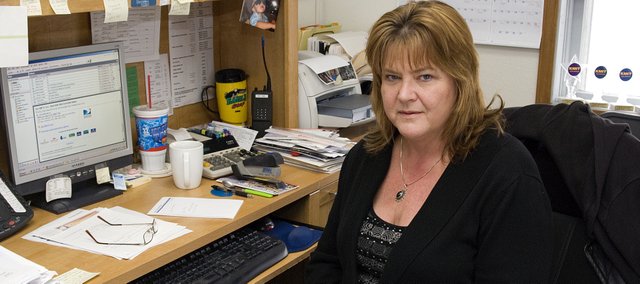 Kathy Bard was known as the "go-to person" for any questions co-workers or Tonganoxie residents had at City Hall.
"She was just a wealth of knowledge," said Mary Conway, city clerk. "She contributed greatly to the city without any thought of recognition. She always had time for anybody and everybody.
"She had an open-door policy. She could have been working on project. You could go in and interrupt her."
Bard died Friday at the age of 47. She was diagnosed in December with lung cancer. She took a leave of absence due to her illness later that month, but worked periodically during the last few months when she felt up to it. Bard resigned June 15 and a reception took place for her June 22.
"For me, it was surreal," Conway said. "I just thought she was going to beat it (cancer). I guess that's just what I wanted."
Bard worked for the City of De Soto before coming to Tonganoxie on Nov. 1, 2000, as city clerk. Her title later changed to assistant city administrator. A 1982 graduate of Turner High School in Kansas City, Kan., Bard earned bachelor's and master's degrees while working in Tonganoxie. She also earned a certified public manager degree from Kansas University in 2010.
"She was a self-starter; self-motivator," Conway said.
The Tonganoxie City Council opened its Monday meeting with council members sharing their thoughts about Bard.
"I greatly appreciated what she did," said Chris Donnelly, council member. "She wanted to improve the community as a whole."
Bill Peak recalled Bard being helpful in answering questions he had about the city, both as an inquisitive citizen and later as a council member.
Mayor Jason Ward, following Monday's meeting, echoed council members' sentiment.
"I would just say Kathy was an amazing person," Ward said. "She did the things that needed to be done and did them without any yearning for recognition or requirement of her peers to recognize the things she did on a regular basis."
Visitation is 6-8 p.m. Wednesday at Alden-Harrington Funeral Home, 214 Oak St., Bonner Springs. Services will be 10 a.m. Thursday at the funeral home.
An obituary for Bard appears on page 5 of Wednesday's edition of The Mirror.