Bonner Springs alum,
KU

legend Jaynes among Hall of Fame inductees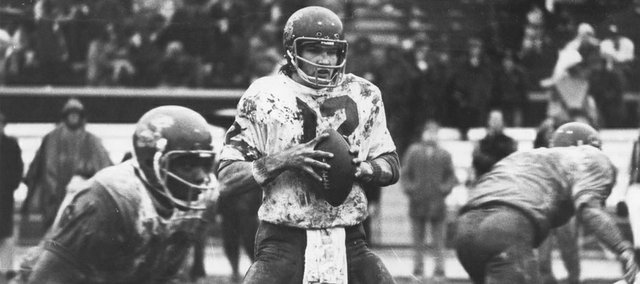 Bonner Springs High School alum and former All-American Kansas University quarterback David Jaynes will be inducted into the Kansas Sports Hall of Fame's Class of 2012.
Jaynes will join a class of nine inductees at a ceremony on Oct. 7 in Wichita as the Kansas Sports Hall of Fame celebrates its 51st anniversary.
Jaynes will be inducted alongside former Kansas State quarterback Michael Bishop, women's junior college basketball coach Kurt Budke, national champion track and field athlete Harold Manning, Kansas State basketball All-American Willie Murrell, tennis coach David Snyder, Emporia State softball All-American Brenda Stolle and Kansas University basketball All-Americans Wayne Simien and Bud Stallworth.
After graduating from Bonner Springs High School, Jaynes went on to have a decorated career behind center at Kansas University.
Jaynes was selected to the All-Big 8 and All-America first teams in 1973 and graduated as the school's leader in passing yards and touchdown passes. That record of 5,132 passing yards and 35 touchdowns stood for more than a quarter century.
Also in 1973, Jaynes led the Jayhawks to the Liberty Bowl after leading the league in touchdown passes and finishing second in the Big 8. Jaynes went on to be a third-round selection by the Kansas City Chiefs in 1974.