Senior project aims to boost interest in tennis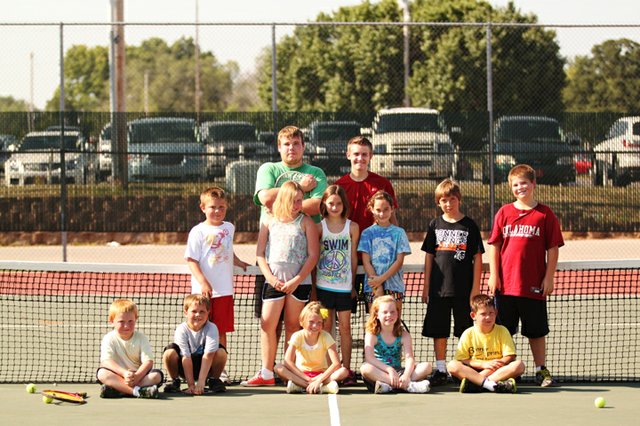 If Bonner Springs High School starts bringing home some big tennis awards in four or five years, that success might be traced back to summer 2012.
During the last month and a half, many elementary and middle school students got to try their hand at tennis through a free camp offered by Aaron Lewis, a BSHS senior and varsity tennis player. Lewis put together the camp on Saturday mornings at courts near the middle school as part of his senior project.
While many children get exposed to sports like baseball, basketball and football through pee-wee leagues, Lewis said tennis isn't something younger children in the area get to try outside of taking private lessons, which can be costly.
"I feel like it's not advertised a lot, and a lot of kids just don't know," he said.
Lewis said he didn't start playing tennis until the summer before his freshman year of high school, and he wanted more young children to learn about the sport.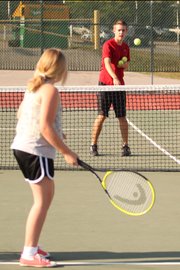 "My main purpose with this camp was just to get tennis into our community, because I feel like if I would have known about tennis earlier in my life, I could've been twice as good today," he said. "It's an easy, fun sport that anybody can play."
Lewis tried the sport thanks to his dad, a friend of BSHS tennis coach Bill Scott, who encouraged him to attend Scott's Tennis Tuesdays program, evening tennis practices for eighth through 12th grade students.
"I went out and tried it, and that first day, I picked it up really fast, so I figured I had a knack for it. I kind of fell in love with the sport then," Lewis said.
Not many students have the bulk of the work for their senior project done before their senior year even begins, but Lewis said he has been thinking about a tennis camp for his senior project since he was a freshman. A friend helped him create a flier, which he sent to the elementary schools and middle school, and he got fellow tennis team members Joseph Arnett and Tyler Jenkins to help.
Their help was necessary, because the camp brought up to 20 players each day. Lewis borrowed junior-sized rackets from the middle school.
"Some kids that used them, they were like 'Oh, I'm going to get a new racket,' and they'd show up the next week with their own racket," he said.
Scott said he was excited to see exposure for the sport beyond his Tennis Tuesdays.
"He is a good player to do this, too, because he is patient with the kids," he said. "Aaron's got a good stroke — he knows what he's doing."
Kitty Grant, whose daughters Beth, 8, and Jane, 9, participated in the camp, said a free tennis camp was too good to turn down and a great service to the community.
"They enjoyed it immensely; I think they learned a lot and enjoyed being with the other kids," she said. "Aaron did a good job of providing instruction, because he had kids with various levels of experience."