Basehor City Council gives employees pay bump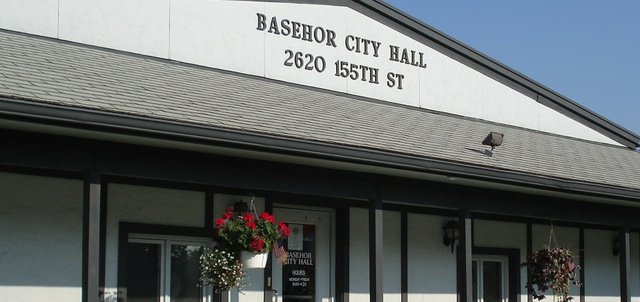 The Basehor City Council sent a message to the city's police officers Monday night: Stay here.
The council approved more than $100,000 worth of pay increases for city employees, with the bulk going to police. Most of the officers will receive increases of about 10 percent and about $3,000 per year.
Also approved was a new pay scale that raises possible wage ceilings for the city's upper-level employees by as much as 40 percent. But in 2013, it's the city's rank-and-file who will get the biggest bump.
The council approved the 2013 wages and the new pay scale with a 4-0 vote. Member Vernon J. Fields was absent.
Interim city administrator and police chief Lloyd Martley has said several times in the past that the city has had a difficult time holding onto its police officers, and he mentioned the problem again Monday.
"We lose good quality employees to other cities around us," Martley said.
All city employees will receive a wage increase of at least 2 percent under the plan. The additional wage increases for police and other lower- and midlevel employees were based on a study of pay in other area cities by Martley along with council members Brian Healy and Fields.
A good deal of work had gone into formulating the plan, Healy said.
"You have to look at who is out there and what they're doing to know what your baseline is," Healy said.
Before the council voted on the plan, Healy directed some comments toward recalled former council member Iris Dysart, who attacked the salary increases during the meeting's public-comment period earlier.
Dysart said she'd heard over and over since her 2003 election to the council that employees needed to be paid more. But she said Basehor shouldn't try to compete with area cities with bigger tax bases and deeper pockets.
"This is the same song that I've heard for nine years," Dysart said.
Healy criticized Dysart for saying that some employees were in line for pay increases of as much as 40 or 50 percent — a far higher amount than any employee will receive in 2013. He implored her to apologize to the council for citing inaccurate figures.
"We would never let that happen," Healy said. "And I don't think you would have let it happen."
The highest single pay increase for any employee in 2013 will be about 16 percent. The figures Dysart cited also appeared in a letter published in the Sentinel on June 7 from another former council member, Jim Washington. Those percentages referred to an earlier proposed pay scale, not to any proposed raises for 2013.
It is true, though, that the new pay scale approved Monday night increases the possible wage ceilings for some top positions, such as the city superintendent and police chief, by as much as about 40 percent or around $28,000 per year.
Those employees are far from reaching those ceilings, however. And Healy said employees would move up the new scale only through performance-based raises, which is a change for the city.
"If somebody doesn't deserve a raise because their performance doesn't merit it, then they don't get it," Healy said.
Martley said no employees would receive performance-based raises until at least 2014, and all raises will require City Council approval.
The wage increases for 2013 were included in a draft of the city's 2013 budget presented to the council Monday. The budget would lower the city's mill levy by a fraction of a mill from its 2012 level, to about 29.3 mills.
The council will hold a public hearing and likely approve the budget before its Aug. 6 work session. If any objections are raised during the public hearing, the council could delay the approval until a week later, Martley said Monday.
Also during Monday's meeting, the council:
• Approved, 4-0, a contract with Canyon Stone Inc. of Olathe for about $8,000 to restore the stone structure at the center of the roundabout at 155th Street and Pinehurst Drive.
• Agreed, 4-0, to waive a $150 fee for a short-term conditional-use permit for a circus sponsored by the Basehor Chamber of Commerce, scheduled for Aug. 27.
• As part of the consent agenda, approved, 4-0, two agreements with the Kansas Department of Transportation regarding construction projects on Wolf Creek Parkway and 155th and 158th streets; the rezoning of 2804 N. 155th St. from a neighborhood business district to a single-family residential district; and an agreement with the Electronic Transaction Systems Corporation to provide online utility billing.
• Entered into three periods of executive session. One session also included Martley and City Attorney Shannon Marcano and lasted 20 minutes; the other two included Martley, Marcano and Mike Seck, an attorney representing the city's liability insurance provider, and lasted 15 minutes and 25 minutes.