'

Beast' mode:

BLHS

strength and conditioning program still booming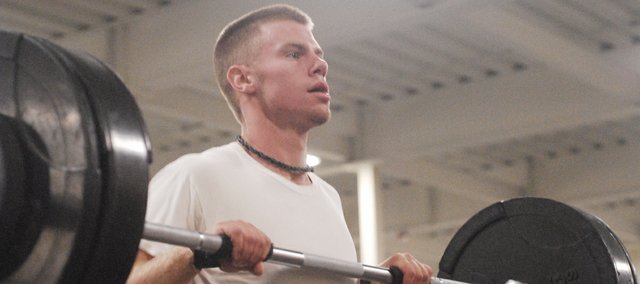 Want to know what the offseason sounds like?
Wipe the sleep out of your eyes and step inside the Basehor-Linwood Health and Wellness Center, the 8,000-square foot facility erected in 2010 just off the football field. From as early as 6:30 a.m. each weekday morning, more than 280 students — about one third of the student body — file in to heave weights, shout encouragement and blare AC/DC.
"We don't have a summer," senior Tanner Garver said. "We're in here every morning at 6:30 getting better."
This is the Basehor-Linwood strength and conditioning program in its seventh year. Next week, the seven-week regimen will conclude with its annual "Beast Feast," a celebration of those who didn't miss a day. Strength and conditioning coach Ross Schwisow, who has coached the Bobcats powerlifting teams to consecutive state championships, estimates that about 180 of this year's participants will qualify.
About 90 percent of fall sports athletes, Schwisow said, participate in the program. And though it's voluntary, you'd be hard pressed to find a varsity athlete professing to have something better to do.
"They know that they're supposed to be in here," Schwisow said.
The program has helped lay a foundation for Basehor-Linwood's athletic success in recent years. The football team hasn't lost a regular season game in nearly three years, not least because it has outlasted and out-muscled many of its opponents.
That physical disparity has not gone unnoticed. Bonner Springs football coach Lucas Aslin, entering his second season at the helm, referenced the need for his players to increase their weight room proficiency, on multiple occasions citing last year's blowout defeat to the Bobcats.
The first three weeks of Basehor-Linwood's summer program were spent on conditioning: higher repetitions, shorter rest periods between sets. Each day still features a 30-minute speed and agility session outside.
"The kids that do this," Schwisow said, "they're not going to get hurt."
Garver, who is expected to split time at quarterback this season, can remember when he first noticed the benefits of the program. He had been coming in to participate since he was in seventh grade. Now, on the first game of the season against Piper, he watched it pay off.
"They had 15 guys cramping up," Garver said. "We had maybe one or two. We're always one step ahead in the third and fourth quarter. Always a step faster."
The Bobcats won that game, 39-13, and would win all but one of their games by two scores.
Senior Brandi Stahl, a hitter and setter for the Bobcats' volleyball team, has seen it, too. After awhile, she said, it becomes easy to tell whether her opponents' have worked as hard in the summer.
"They'll just stop trying and you'll just know," she said. "They'll be breathing heavy while you're feeling good."
Like Garver, Stahl has also participated in the program since she was in seventh grade.
What's helped keep athletes coming back, not to mention motivated to work out all summer, is simple: competition.
If you don't have an opponent somewhere working just as hard to unseat you, then it's someone on your own team hungry for your starting spot.
There's also "Game Day." Once every summer, athletes are paired up to compete with their peers in eight stations, further stoking the competitive fire.
Stahl said she and Kara Stephens were pretty easily matched, although she had the upper hand in the ball toss and Move the Mountain — a race in which one hurries 45-pound weights from one space to another.
Garver drew Ben Johnson and Caleb Hiss. They were pretty even for awhile, he said, until…
"Ben beat us in all the strength ones," Garver said.
Offseasons don't slow to quiet conclusions, rather their intensity ramps up as fall slinks into sight.
And, just to be sure, there's Schwisow towering above the room, eager to remind those shouting students what's ahead.
"Start getting excited," he told them one morning. "August 13 is going to be here four weeks from today. If you're not starting to get excited about that, I can't really help coach you."