Highland
CC

next up for

BLHS

grad Barnes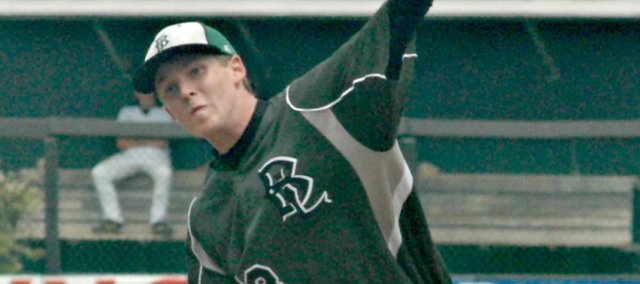 Recent Basehor-Linwood graduate Skyler Barnes doesn't sugarcoat his assessment of himself when he reflects on the freshman lefty who walked into the Bobcats baseball program for the first time four years ago.
"I came in lazy," he said.
Four years later, Barnes leaves Basehor-Linwood with a heightened work ethic and a new destination ahead. Earlier this month, Barnes committed to continue his baseball career at Highland Community College, where he'll report in one month. Barnes said he visited Highland's campus two months ago, and said that he had narrowed his choices to three schools by the summer before the frontrunner emerged.
"It was like home," Barnes said of the campus. "I just felt like I belonged there."
This past season was Brian Lohafer's second as head coach of the Bobcats, but, having previously served as an assistant coach on the team, he worked with Barnes throughout his Bobcats tenure. Lohafer said Barnes' potential was evident from the start and that his being a left-handed pitcher would set Barnes up for opportunities down the road should he put all the pieces together.
As a junior, Barnes got the nod to pitch the season opener in 2011 — the year the Bobcats reached the state tournament — and was looked at as one of the team's aces by his senior season.
Finishing 4-16 and shy of a return to state, 2012 did not go as hoped for the Bobcats. Chief among the challenges Basehor-Linwood couldn't overcome was the 2011 graduation of stalwart catcher Jared Patton. Lohafer said Barnes' stats dipped, in large part, from that lack of continuity behind the plate.
"Skyler didn't get a real fair shake," Lohafer said.
That's not to suggest his senior season was without its moments. Barnes was the only Bobcats player named to the Butch Foster All-Tournament team in April and led the Kaw Valley League with the lowest earned run average. By season's end, Barnes also found himself on the All-Kaw Valley League's second team.
It was at the Butch Foster Memorial Classic, played at CommunityAmerica Ballpark in Kansas City, Kan., that the Bobcats earned their biggest victory of the season. In the first round of the tournament, Basehor-Linwood upset No. 1-seeded Paola, 5-2, behind a strong appearance by Barnes pitching in relief.
"I think that was one of the games where we really came together as a team," Barnes said. "One of our problems last year was that we played for ourselves. When we played together we played well a lot of the time."
Lohafer said Highland will be a good fit for Barnes because it will help expand his profile and exposure to area college recruiters.
"A lot of that will depend on the pitching coach there and how they use him," Lohafer said. "He's got good height, good arm action and left hand delivery that will put a lot of people off guard. If the team is winning a lot, he'll be seen and have the potential to move on."
Lohafer, who is in his 37th year of coaching, said he usually steers players toward junior college programs if they develop past high school ball. Because Division I recruiters seldom pass through schools of Basehor-Linwood's size, Lohafer added, Kansas has several strong junior college programs that offer opportunities for both exposure and playing time.
"He'll have two more years to develop and more early playing time than he would at a Division I or Division II program," Lohafer said.
Last weekend, Barnes finished play for his summer travel showcase team, the Natural Baseball Academy. Just a few weeks of summer remain before move-in day on Aug. 13.
Three days later, baseball practice begins and Barnes will exchange his Bobcats cap for a Scotties lid. There, he'll be able to focus on pitching, something he's loved since he was just 5. And if his last stop is any indication, he may soon win over his next coach.
"I think Skyler is an excellent left-hander," Lohafer said. "He's going to do well at Highland."