Youth football team donates $1,500 to Basehor-Linwood fitness center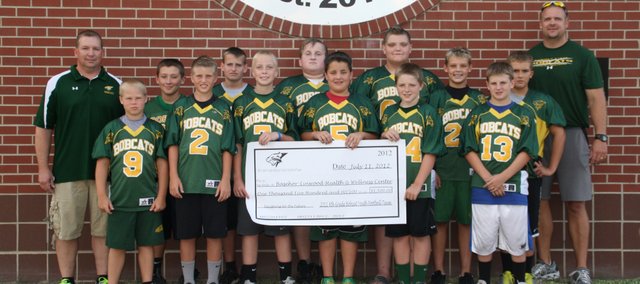 Coach Rob Cunningham and his 2011 Sixth Grade Bobcat Youth Football Team last week presented a $1,500 donation to the Basehor-Linwood school district's Health and Wellness Center.
As the boys on the team will be entering seventh grade this fall, making them eligible to play football for Basehor-Linwood Middle School, the team sold its equipment and donated the proceeds to the Health and Wellness Center, located outside Basehor-Linwood High School. The team originally purchased the equipment through its annual trash-bag sales fundraiser.
Members of the team were Logan Schubert, Zach White, Zach Kamm, Ryan Reed, Jacob Coleman, Nolan Ford, Jack Wiles, Tuckker Johnson, Zach Howard, Reid Pruitt, Tyler Cunningham, Parker Rusk, Dalton Lindelof, Miles Beach, Andrew Sullivan, Lucas Yockel, Luke Willis and Jackson Poe.