Bonner attacks massive wasp infestation at park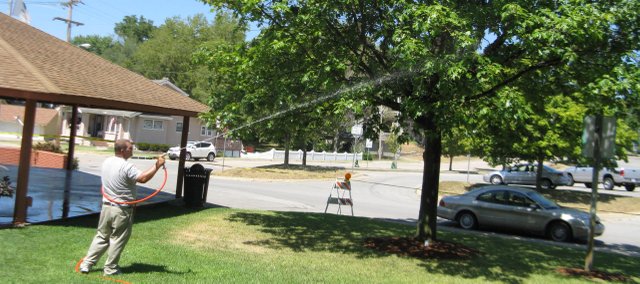 The city of Bonner Springs took care of a large insect infestation in one of the city's most-used parks late last week.
Skip Dobbs, director of the Parks and Recreation Department, said the city contacted a professional pest control company last week when it noticed a large number of wasps and hornets in Kelly Murphy Park, where the Bonner Springs City Band normally has its summer concerts. The pest control expert said there were seven different species of wasps in the park, plus a hornet he called a "cicada killer," Dobbs said.
Dobbs said the band first noticed a number of wasps in the gazebo at its July 12 concert, but city staff checked the area for wasps nests the following day and didn't find any.
A few days later, staff members noticed several wasps while mowing the grounds.
The band decided to have its July 19 concert inside at the high school due to the heat, so parks staff went to the small park that day with spray cans and realized the insects were crawling all over the ground and trees, some eating sap that was dripping from the trees.
"It just looked like thousands of ants crawling across the trunk," Dobbs said, adding that when he sprayed the grass, the insects rose up into the air "like a flock of birds." "Obviously our cans weren't enough to reach them all."
So the city contacted the pest control company, who were amazed at the amount of insects in the park.
"He said, 'I've never seen so many wasps in one area at the same time,'" Dobbs said.
Dobbs said the only reason city staff could come up with for the large insect congregation was that the park is regularly watered, and they were attracted to the moist ground.