Business owners share how to take the plunge, stay afloat
Building new business can be challenging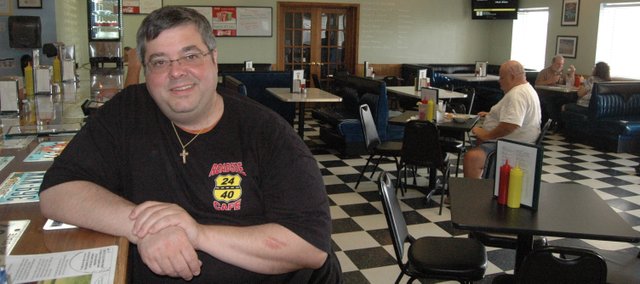 Helpful resources
• Kansas Small Business Development Center at Johnson County Community College: 913-469-3878; jccc.edu/ksbdc
• KU's Small Business Development Center: 785-843-8844; kusbdc.net
• U.S. Small Business Administration: 800-827-5722; sba.gov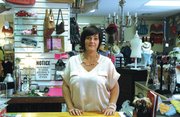 With a dream, a rented building and only $2,000 in savings, Tamara Hudson turned in her two-weeks notice at her job as a manager for Victoria's Secret.
She planned to have her new home furnishings boutique ready to open in Shawnee by the time those two weeks passed.
Her plan didn't go as smoothly as she had hoped, but Hudson did meet her goal of opening in two weeks. And nine years later, Encore Unique Boutique, 11006 Johnson Drive, is still going strong as a clothing and vintage furniture business.
Hudson, like most area business owners, will tell you that opening and running a business isn't easy. In fact, it can be a pretty difficult way to make a living.
"The restaurant industry is a really hard business," said Bryan Smith, who opened his first business, the 24-40 Roadside Café, last month in Basehor. "Unless you have a good background in it, it's a tough business because there's so much involved. A lot of people think running a restaurant would be nice and easy, but it's not."
As longtime area businesses such as Quilters' Paradise in Baldwin City have demonstrated, businesses can survive and even thrive. But before taking the plunge, there are some things to consider.
First things first
You've got what you think is a great idea for a new business — something you can sell or a service you can provide that will draw crowds of people. Maybe you've saved some money. But first and foremost, there's an important step to take, said Will Katz, regional director of Kansas University's Small Business Development Center.
"Number one I would say definitely, definitely work towards some kind of a business plan, that's a really good first step. Get your thoughts on paper," Katz said. "A very simple business plan and a cash flow projection are pretty important."
Research on all that goes into business ownership is important, too. That's something Lana Howe said she wished she had done more of when she first became a business owner. She started her business venture in her kitchen, making handmade soaps and lotions using the milk from her own goats.
In 2003, she and her husband purchased, out of their own savings, a building in Tonganoxie to move her growing business into. Vintage Soap & Bath, 626 E. Fourth St., is doing well today and has grown to include a coffee shop. But, Howe said, "I kind of did things backwards."
After opening her store, Howe said she was quickly surprised to learn that running a business was a lot more involved than she thought it was going to be.
"You have to wear so many hats to run a business," said Howe, who now regularly takes business classes and workshops.
She doesn't regret her decision to go into business for herself, she said, but "it's something I probably should have thought through more."
Know your product
Sharon Vesecky has been sewing and quilting for more than 50 years, and that's one of the main reasons her business has stayed open for almost a quarter-century, she said. Vesecky opened Quilters' Paradise, 713 Eighth St., Baldwin City, in 1989. Like Howe, she started her business out of her home, making clothing from knit fabrics to sell at gatherings similar to Tupperware parties. But soon, she said, she "outgrew the kitchen table."
"A younger person starting out doesn't have that kind of experience behind them," said Vesecky, whose grandmother taught her how to sew when she was a youth. "You need to know your craft inside and out."
It also helps to have spent time before in a business setting — or restaurant setting, in Smith's case. Though Smith is a new restaurant owner, he said he's worked as a chef in Kansas City area hotels, restaurants and country clubs for more than 25 years. He's helped open restaurants, as well. He said being his own boss had been a dream for some time and that he thought a diner serving food that appeals to everyone would be a good fit in Basehor.
"I guess you could chalk it up to experience," Smith said. "I'm very good with running numbers and very good with listening and understanding what your clientele wants."
Passion (and patience) are paramount
There's a good chance you'll be spending more time in your business than out, said Hudson, so it's a good idea to build it around something you are passionate about.
That was Dennis Smith and Connie Fenton's plan. The husband and wife team opened their antique business, This and That, 201 Oak St., earlier this year in Bonner Springs. Antiques had long been one of Dennis Smith's passions. In fact, he and his wife have run an antique booth at Timeless Treasures Antique Mall in Kansas City, Mo., for 25 years. The thought of removing from storage all the items her husband had collected over the years appealed to Fenton.
Building a business takes a combination of passion and patience, the couple said.
"It doesn't come overnight, you know," Fenton said. "The knowledge doesn't come overnight, and the customers don't come overnight. You kind of have to wait it out some days."
Passion is also what helped Hudson stay afloat during more than one rough patch. Gathering enough furniture to sell in the beginning to pay the rent wasn't always easy.
"We hustled that first month," she said.
Then there was the year, 2005, when Shawnee's downtown revitalization construction project was in full swing, creating a significant reduction in customers. To save the business she had dreamed about opening since she was a youth, Hudson organized fashion shows and took on extra interior design work.
"Are we living in a million-dollar home and driving a murdered-out Mercedes? No, we're not. But I get to do what I love every day," she said. "And it just sounds so corny, but when you love what you do, it doesn't seem like work."
The bottom line
Of course, money is a necessity to getting any business off the ground. And that can come with its own set of challenges.
"I think that most businesses that I see are funded with a combination of equity (the business owner's money) and debt," Katz said. For those interested in obtaining a small-business loan, "find a bank and, preferably I think, one that has a track record of doing (U.S. Small Business Administration) lending. They tend to know those systems better; they tend to know what loans can be guaranteed. They know what collateral security you'll need, all that kind of stuff."
Securing a small-business loan can be difficult for a new business owner, as Dennis Smith and Fenton discovered.
"It's kind of a Catch-22, because you try to apply for a small-business loan, but then we were denied because we haven't been in business long enough," Fenton said.
Hudson recommends not going into debt at all if you can help it. She said it's a good idea to have about three months' worth of rent saved up before signing a lease.
"This economy is too sketchy, fickle," she said.
Katz said the risks certainly tend to be lower when owners can finance their businesses themselves.
"Obviously, if you take a $100,000 loan to start a business, you better hope the business is successful," he said.
Either way, Katz said, it can be easy to get in over your head financially.
"I think people underestimate how much money it will really take to start a business," he said. "Frequently they underestimate how much working capital they'll need to stay in business for that first year or two."
He said it's a good idea to have a good working relationship with a banker or look for other sources of funding. He's often seen cases where friends and family members have pitched in. Kickstarter.com, an online fundraising source for those more creative endeavors, can also be helpful, but "it's a bit of a long shot," he said.