More than 3 years after Basehor boy's death, his legacy lives on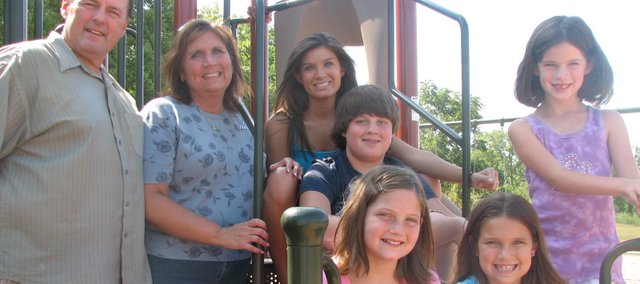 Golf tournament
• The fourth annual Jared McDonnell Memorial Golf Tournament and Silent Auction is set for Friday, Aug. 3, at Falcon Lakes Golf Course, 4605 Clubhouse Dr. in Basehor.
• Registration and the silent auction will begin at 4 p.m., and the four-person scramble tournament begins at 6 p.m.
• Entry is $50 per person, which includes green fee, a cart, dinner from Famous Dave's and two beverages. Dinner-only tickets are also available. Proceeds go toward the playground and park in Jared's memory in the Falcon Lakes neighborhood.
• Hole sponsorships are available, starting at $100. Contact Laurie Langstraat at laurielang@sunflower.com for more information. If you'd like to donate an item for the silent auction, contact Dana Brandenburg at 913-724-1753 or danabrandenburg@yahoo.com.
• To register, go to the event's page at falconlakesgolf.com and find a link to the tournament's page under "Events & Leagues."
Jared McDonnell died at Children's Mercy Hospital on Feb. 2, 2009, nine days after his ninth birthday.
That's what it said on his death certificate, anyway. But that's not how Jared's mother, Jeri McDonnell, sees it.
"My version is that we lost Jared at the house," Jeri said.
In her eyes, Jared died the day before, after he collapsed from an asthma attack at the family's Basehor home on a Sunday afternoon.
Sure, his heart kept beating until Monday night. But Sunday was the last day of his life, the last day he was really there. That last day was something different. It was the start of Jared's legacy.
That legacy is present in a playground and park built in Jared's honor in Basehor's Falcon Lakes neighborhood, where the McDonnells live. It will be present next month at a fourth and final annual memorial golf tournament, which has raised the funds for Jared's park. But perhaps most meaningfully, it's present in three people out there somewhere who are presumably living healthy lives, all because of that extra day.
"It was meant to be," Jeri said.
If Jared's heart had never beat again after he collapsed on that Sunday afternoon, as his mom spoke on the phone to a 911 dispatcher, things would be different.
But paramedics were able to revive his heartbeat as they took him to Providence Medical Center in Kansas City, Kan., and it continued to beat through the evening, even as Jared was transferred to Children's Mercy Hospital in Kansas City, Mo., and put on life support, and as doctors told Jeri and her husband, Tim, that his brain likely would not function again.
That put the McDonnells in an unusual position: Jared had the opportunity to donate his organs to people in need, potentially saving their lives.
When representatives of an organ transplant network asked Jeri and Tim whether they'd like to make Jared an organ donor, they said they'd have to make a decision as a family. So they asked each of Jared's 15 brothers and sisters, some of whom had driven in from their homes in Nebraska, what they thought.
"Before I finished the sentence, they said, 'Yes,' " Jeri said. "'That's what Jared would want, because that's the kind of kid Jared was."
Jared was a friend to everybody in the neighborhood, Jeri said, from toddlers to adults. That's how neighbor Dana Brandenburg remembers him, as well.
"We're a really close community here, so he's kind of like our kid, too," Brandenburg said.
So everyone agreed that Jared, who was known for sticking up for kids on the school bus who were picked on, would want to help out others in need. And it just happened that on that night, somewhere in Kansas or Missouri, an 11-year-old was in danger of death if he or she didn't receive a liver transplant soon. And Jared was a match.
His liver and two kidneys were Jared's final gifts before he died Monday night. His kidneys went to a 21-year-old and a 53-year-old.
The McDonnells know nothing about the recipients of Jared's organs except for their ages, though it's possible they could hear from them sometime in the future. Jeri said she'd love to hear about how the recipient of his liver, now a 14- or 15-year-old, is doing, or perhaps receive a notice when he or she graduates from high school.
"I'm hoping someday there will be a letter in the mail," Jeri said.
Even if Jared's family can't meet the people he helped save, he did leave a mark behind in one way they can see: a memorial playground for kids, including Jared's younger sisters, to play on.
Keith McDonnell, one year older than his brother Jared, said the playground was a fitting tribute to the boy who used to play backyard football and baseball with him.
"He liked to play," Keith said.
Funds for the playground and surrounding park area have come from an annual memorial golf tournament at the Falcon Lakes golf course, as well as $15,000 in matching funds from the city of Basehor (the park is open to anyone). This year's fourth edition will also be the last, as organizers expect to raise enough to finish the project, said Brandenburg, a member of the organizing committee. It's set for Aug. 3.
Jeri and Tim say they may try to start a new memorial event, with the proceeds going toward an organ-donation or asthma research group, though that would present a challenge.
"It's just tough to do," Jeri said, her voice straining as her eyes welled up. "It just brings it up every year."
But whatever happens, Jeri said, they marvel at the mark left by their son, who would be 12 years old and preparing to start the seventh grade.
"Jared just shines for everybody, for whatever reason," she said.