Pull up a (Legacy) seat: Mayberry celebrates with friends, family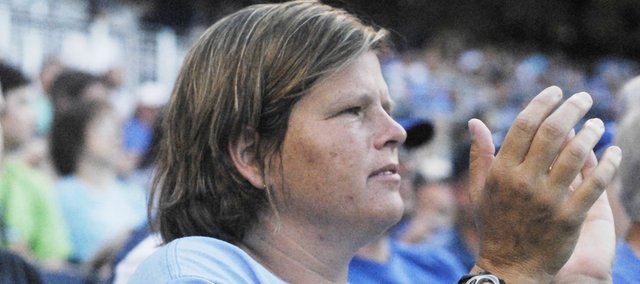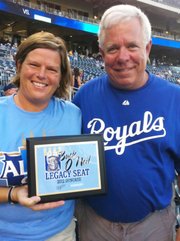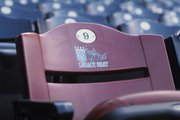 She sat in the red seat behind home plate where Buck O'Neil used to score games at Kauffman Stadium. Beside her was the man who signed her parental consent forms and drove her to softball practice years ago.
Further down their row, her college coach, who soon became akin to family, crossed her arms and looked out on the field. Further still, her older sister and her best friend caught up. And a few sections away, a cluster of about two dozen more family, friends and peers gathered to see Susan Mayberry wave to the home crowd, her image broadcast on the Royals' towering high definition scoreboard past centerfield.
It was a sweltering Wednesday night as the Royals hosted the Seattle Mariners. But if the heat ever got to anyone sitting with the evening's Buck O'Neil Legacy Seat honoree as she watched Billy Butler take batting practice a few yards away, you'd never know it. Instead, as they waited for the first pitch, and long after it, they shared the stories that connected them to one another.
•••
Tough to imagine that Mayberry — whose Bobcats softball team placed third in the 4A state tournament in May, the program's seventh appearance under her watch — once didn't know what softball was. She was a second-grader living in Kansas City, Kan., when a friend from a nearby youth team gave her some forms to send home to her parents, Don and Joyce Mayberry.
"Mom, sign this. Mom, sign this," Susan said one afternoon.
"What is this? I'll call around," Joyce replied.
"Mom, it's just…I'm playing ball."
Don tells the story in place of his wife, who stayed home with an illness. Soon enough, he said, they'd take her to her first practice. They hung around for a little while but left her alone before returning later to take her home.
"When we get back she's making this motion with her hand," Don said, making his hand limp below the wrist and whipping back and forth as if to regain feeling.
As he remembers it, Susan was eager to talk about how much fun she had that day, but wasn't as interested in talking much about her hand, which upon closer inspection was purple and black below the knuckle.
"We better go check it out," Don said.
"Dad, just don't," she said. "I'm playing ball. Don't do anything."
Anyway, Don said, it was broken. She received a splint and returned to practice.
"It didn't slow her down," Don said. "She went ahead and played anyway."
The rest, Susan says today, is history.
•••
By Mayberry's freshman year in high school, her family moved to Basehor, where her parents now live across from former Basehor-Linwood principal Richard Haynes.
Haynes, as it happened, was also Mayberry's basketball coach. The school didn't yet have a softball program — Mayberry would keep busy with that sport each summer — but she played volleyball and basketball for the Bobcats, too.
Before Basehor-Linwood boys basketball and football became the programs they're known as today, Mayberry built the softball team into one of the school's most successful. Before even that, Haynes said, she helped pioneer an upward trend in the girls basketball program.
"She was one of those kids that would run through a brick wall for you," Haynes said. "She was that kind of player. She's that kind of coach now."
After high school, Mayberry, like her older sister, Traci Mayberry, walked onto the softball team at Pittsburg State. Each sister played their way to scholarships, becoming mainstays in the starting lineup each of their four years.
Mary Nutter coached the sisters before later moving to Basehor herself to continue her sports clinic business. It didn't take long, she said, to notice Susan's instincts as a player, instincts Nutter figured had to be learned through years playing neighborhood ball.
"She led," Nutter said. "She was definitely a leader from the day she walked onto campus."
Traci said her sister's coaching style is not a far cry from that of their college mentor's. It's an assessment Nutter, having spent several years now as an assistant coach for Mayberry's teams, also makes.
"When I coached Susan, she had to have good grades, had to toe the line," Nutter said. "I was a disciplinarian, no question about it. You tend to take on your mentor's philosophy, and that's just what Susan did."
The Bobcats' team grade point average after 2012 was 3.72 with scores of National Honor Society members and Kansas Scholars among them through the years.
•••
Mayberry was the only teacher to take former Basehor-Linwood school board member Ron Grover up on his offer to visit her health class twice yearly and talk about his son's struggles with drug addiction. Before long, that son also visited to share his story, later telling his father he couldn't face any other teacher.
It was through their partnership that Grover decided to nominate Mayberry for the 2011 Commissioner's Play Healthy Award, given by The Partnership at Drugfree.org and Major League Baseball.
Last fall, Mayberry was indeed selected for the award and was put up in New York City's Waldorf-Astoria Hotel to accept the honor at a $1,250-per-ticket gala fundraiser where she rubbed elbows with CEOs and celebrities alike.
"When you hold up somebody doing the things that she's doing as an example," Grover said, "it raises us all."
That recognition also caught the attention of the Royals, who early this summer told Mayberry they wanted her to bring everybody out one night as she took in a game from where Buck once sat.
Another one of Mayberry's guests was the woman who coached her for the first time, Pat Rankin. Rankin remembers a Susan Mayberry who didn't yet fully know what softball was, couldn't know where it would take her.
Today Mayberry said she one day hopes to pursue a PhD and also plans to further restore competitive youth softball in Basehor while developing a softball drill book with her former college coach.
But Rankin said that before Mayberry realized all of this, she was a little girl who proved a quick study, taking little time to establish herself as her team's go-to batter and stealer, and always seemed to come through.
And that first day? Rankin can confirm that, too.
"Yeah, she would've played with a broken finger," Rankin said. "She would have played anytime, anywhere."