Tonganoxie police station renovations approved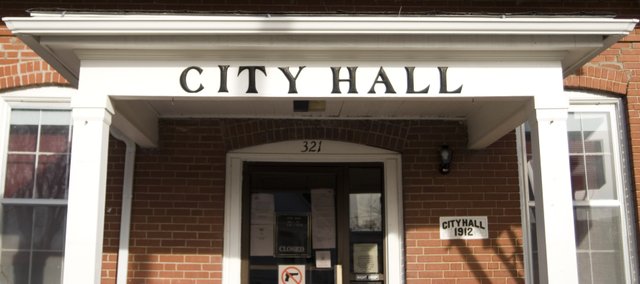 Renovations are coming to the Tonganoxie police station.
The Tonganoxie City Council approved, 4-0, at Monday's meeting more than $9,000 in security enhancements to the station at 328 Delaware.
The council approved the low bid from Shumway Homes of Tonganoxie for $9,221.
Some of the renovations are security on doors, construction of a lobby area and a secured lobby/interview room and other office space.
The department has been in the former Kansas Firearms Specialties in a building Calvin and Susan Quisenberry own at the northwest corner of Fourth and Delaware streets since February when the council approved the move due to water issues in the basement of the former police station across the street.
The city had been paying $1,600 on a month-to-month basis for the 2,000-square-foot space, but the city is working with the Quisenberrys on terms for monthly rent of $1,300.
In other business, the council:
• Heard from Brian Kingsley of BG Consultants about the Chieftain Trail extension.
Plans call for the trail to extend from Chieftain Park northeast along Tonganoxie Road to Laming Road and then south on Woodfield Drive near the post office.
But the owner of the land along Laming Road, Don Huebner, would prefer that it not run along that route. JW Evans of Evans Real Estate, who is working with property owners to acquire easement for the trail, said Huebner preferred a different route "for personal reasons."
Another option for the trail might be connecting Tonganoxie Road and Woodfield Drive with the trail running just south of Stack and Stuff Storage.
Kingsley said he estimated a $5,000 savings with the alternative route.
When plans for the trail are finalized, the 10-foot wide sidewalk will be built through a federal Transportation Enhancement grant the Kansas Department of Transportation administrates.
The grant is to provide an estimated $895,572 to extend the trail, with the city matching $223,000. Other costs, such as design engineering, utility relocation and easement acquisition. When those services are finalized, they're estimated to cost $71,000.
• Heard from Mark Lee, building inspector about the status of cleanup of the old creamery on First Street.
The property has been cleaned up and the city will bill owner Pete Depetre $2,590 for cleanup work. The council also directed city staff to clean up a 3-car garage on the property.
• Heard from Janet Falk with Tonganoxie Tidal Waves Swim Team. The team played host to league preliminaries and championships earlier this summer at Tonganoxie Water Park. Falk said the event drew 500 people for each of the two preliminary days and for the championship.
"I think your team is such a benefit to our city and our kids," Mayor Jason Ward said.
Falk said water park manager Darren Shupe was "phenomenal" in working with the team to put on the meet. Falk also distributed a list of Tonganoxie restaurants to visiting teams, which council member Bill Peak said he appreciated.
• Appointed, 4-0, Patty Hagg as interim city clerk. Hagg takes over for Mary Conway, who retired Friday.
• Approved, 4-0, payments of $6,277.62 to BG Consultants for services performed for Fire Station No. 1, $1,467.69 to Ed Roehr Safety Products for taser and holster, $5,194.92 to Edwards Chemcials, Inc., for water chemicals, $41,609.30 to First State Bank and Trust for ball field loan, $16,999.22 to KanGas for prepay on propane for the Public Works Building and Water Treatment Plant, $74,292.46, to Kansas Department of Health and Environment for a Kansas City, Kan., Board of Public Utilities water line loan, $36,348.95 to Kansas Department of Transportation for TRF loan payment, $1,680 to Mize Houser and Co. for final billing on the audit of financial statements for 2011 and $1,600 to Calvin and Susan Quisenberry for August rent.