Questionnaire: Anthony Brown, 3rd District Kansas Senate race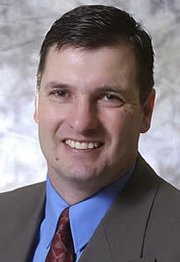 Biographical information
Anthony Brown
Age: 43
Occupation: Carpenter/self-employed contractor
Married: Yes.
Children: Six.
Religious affiliation: Catholic
Education: Bachelor's degree in secondary education from Emporia State University
Experience: State Representative, first elected in 2004. Taught school for four years before a career change to carpentry.
Quote: "The issue I'm most concerned about is getting Kansas families on the right track economically."
Editor's note: State Rep. Anthony Brown is running against J.C. Tellefson of Leavenworth in the Republican primary for the 3rd Kansas Senate District, which includes Basehor and Tonganoxie. Click here to read more about Brown.
Q: Why did you decide to run for this seat? What would be your top priority if elected to the Legislature?  
A: I think we need Kansas to be a place where families can expect a stable and secure economy, a place where hard work is still rewarded and state government is effective and efficient. I feel I can help pursue these issues in the state Senate. My top priority would be getting Kansans back to work and creating opportunities for every Kansas family to succeed.
Q: There has been much concern that the tax cuts signed into law by Gov. Sam Brownback — especially the portion that eliminates taxes on non-wage income for numerous business owners — will deprive the state of the revenue needed to properly fund schools, social services and public safety. Will you seek or support efforts to pare back those tax breaks for businesses?
A: No. If you are asking me to raise taxes on business owners who are really just everyday Kansans, I will not do that. The other guy is about raising taxes, not me.   
Q: Do you think schools are adequately funded?  If not, what would be a proper level of funding and how would the state get that revenue?  
A: "Adequately" is not properly defined. I see school funding just as other programs we fund in the Legislature. I think our teachers are doing a great job with the resources provided to them. I supported additional funding for education this year. It is uncertain what the proper amount should be.
Q: Are there areas in the state budget that could be reduced? Please provide specifics.
A: Yes: the Department of Commerce and Department of Administration. 
Q: Why should voters select you instead of your opponent?  
A: I live and work in this Obama weak economy every day.  I fully understand the challenges facing families in Kansas. I have worked tirelessly for attracting jobs to Kansas. I want to focus on the individual while my opponent likes to focus on the institution. For example, he talks of the needs of the schools. I discuss the needs of the student. He talks about the need for even more money in state government. I discuss more money for the taxpayer. He just has a different worldview than I. That does not make him evil, just wrong in my opinion.