Tellefson says he'll represent constituents' views well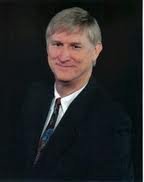 Biographical information
JC Tellefson
Age: 59
Occupation: Retired Naval officer, former Leavenworth County Commissioner
Married: Yes
Children: Two
Experience: Former Leavenworth County Commissioner
Education: Graduate of Kansas State University with a bachelor's degree in journalism; graduate work completed in business.
J.C. Tellefson, a former Leavenworth County commissioner who lives in Leavenworth, thinks he better represents the 3rd District of the Kansas Senate, which includes small communities and two college towns, Lawrence and Baldwin City, than his opponent, state Rep. Anthony Brown.
"It's my job to listen to and represent all the constituents," Tellefson said. "I think I'm in the best position to do that. And get us further down the road."
The Republican primary pits Tellefson against Brown, who is from Eudora. Brown was first elected to the House in 2004 from the 38th District. Redistricting has led to the two facing off in the primary, with the winner set to meet Sen. Tom Holland, D-Baldwin City, in the general election.
Tellefson said he is concerned with the economy, but isn't sure Gov. Brownback's income tax cuts, a measure Brown supports, are the way to go.
"It's going to take unprecedented growth, though, for it to work out," Tellefson said. "I'm in the position that I'm hopeful. But we need to be prepared. We need to cut spending."
Tellefson also supports a property tax exemption for people on fixed incomes, especially elderly Kansans.
"We can't just transfer expenses," Tellefson said. "We've got to cut spending so that we don't increase the burden on property owners."
Asked at a recent candidate forum what kind of Republican he was, Tellefson said he thought he was in line with former Kansas senators Nancy Kassebaum and Bob Dole. Tellefson said during an interview with The Mirror that he read a recent letter to the editor in an area newspaper saying that Ronald Reagan would have trouble getting a nomination these days because he wouldn't be in line with Tea Party voters. Tellefson said he thought Topeka needed more candidates like himself who were willing to work together for the betterment of the state than be divisive. That makes him the better Republican candidate to defeat Holland in the general election, he said.
The newly drawn 3rd Senate District covers parts of Leavenworth and Douglas counties, including Basehor, Tonganoxie, Eudora, Baldwin City and about one-third of Lawrence's population.
Polls are open 7 a.m.-7 p.m. Tuesday at various polling sites. New voter ID laws require that voters present a photo ID when voting. A satellite advanced voting station will be offered 2-6 p.m. today at the Tonganoxie Public Library, Third and Bury streets.
In addition, rural Tonganoxie Township residents who normally vote at the Leavenworth County Fairgrounds will have a different polling place for Tuesday's primary election.
Because the Leavenworth County Fair will be in progress next week, those residents will vote at Tonganoxie Christian Church, 204 Washington St. in Tonganoxie. Residents affected will be those who live in Tonganoxie Township outside of the city limits.
Click here to read J.C. Tellefson's responses to a candidate questionnaire. Click here to read about Tellefson's primary opponent, Anthony Brown.