Organizers ask for return of missing Dairy Days cows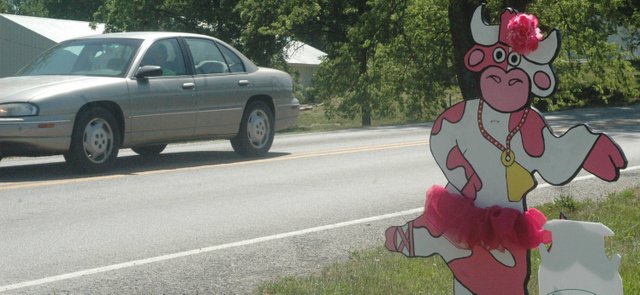 Several of the decorated plywood cows placed around Basehor in advance of Saturday's Dairy Days festival have gone missing, and organizers are asking for their return by Friday night.
As of Friday about noon, four of the cows had gone missing, said Ashley Razak, communications coordinator for the Basehor-Linwood school district.
The cows are part of a promotional fundraiser for the Basehor-Linwood Education Foundation, which provides scholarships and grants to students and teachers each year. They are to be taken to Basehor City Park on Saturday for the festival, where visitors can vote for their favorites at the cost of a $1 donation per vote.
The cows that went missing were from Basehor Elementary School, Basehor-Linwood Middle School, Basehor-Linwood High School and Sarah's Studio of Dance, Razak said.
Razak asked that anyone who knows of the whereabouts of one or more of the missing cows call her at 913-724-1396, extension 130. Callers will be kept anonymous, and the cows will be accepted with no questions asked, Razak said.