Visitors crowd park for Basehor Dairy Days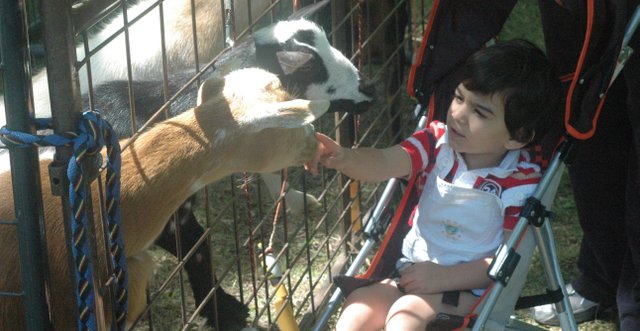 Photo Gallery
2012 Basehor Dairy Days
Tonganoxie resident Phyllis Machado had long wanted to give the Basehor Dairy Days festival a try.
She finally made it this year, and a few hours into the morning of the festival, she was a convert.
"I'll do this every year," Machado said.
Families crowded Basehor City Park on Saturday for the seventh annual edition of the festival.
Visitors hopped on inflatable rides, shopped from a number of vendors, took in an Old West show or simply climbed one of the park's trees. Machado said the variety of things to do and the perfect weather Saturday made for an ideal family event.
Organizers guessed that this year's festival drew a record number of attendees, buoyed by comfortable temperatures and growing awareness. No official attendance figures are kept, but Jenne Laytham, a member of the festival's organizing committee, said the packed parking lot suggested that the number eclipsed the typical 1,000 or so visitors.
"I'm pretty sure that's the fullest I've ever seen it," Laytham said.
As her daughter and grandson slid down an inflatable slide nearby, Basehor resident Marsha Racki said the park, with its plentiful shade, was the perfect site for a festival. And Saturday's weather didn't hurt either.
"The day is perfect," Racki said.
Frank Cherrito, who recently moved to Basehor from Liberty, Mo., brought his family to the festival for the first time Saturday. His daughters loved the petting zoo and the Old West show, he said, and it was a nice opportunity to have some fun just a few miles from home.
"Especially with how small Basehor is, it's nice to have something local," Cherrito said.
Tammy Reeves, who worked a booth raising money for her son's Basehor-Linwood fourth-grade football team, said the steady traffic had made for a successful day. The environment reminded her of the county fair in her small hometown, she said, where it felt like the entire community would come out to enjoy a day of fun.
"This is good for Basehor," Reeves said.