Basehor City Council pondering new wage system for employees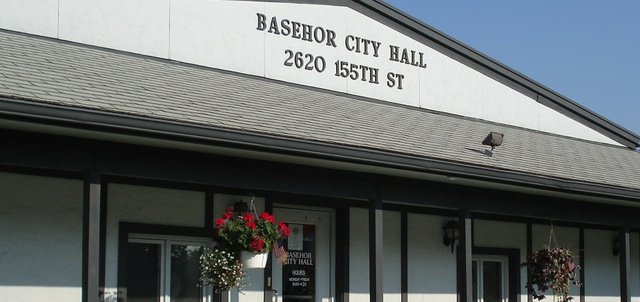 As the time to produce a 2013 budget approaches, the Basehor City Council took its first look Monday night at a possible revamping of how city employees are paid.
A proposed new wage system, presented by Interim City Administrator Lloyd Martley at the council's work session Monday, would eliminate the rigid pay matrix used now by the city in favor of a more flexible pay range for each position, with pay ceilings much higher for many jobs. But Martley said the proposal was just a rough outline to get the council talking.
"All I was looking for tonight was just for the council to say, 'Yes, this is kind of what we were looking for,'" Martley said. "'Now bring us the rest of the project.'"
At a planning retreat in May, council members discussed installing a new wage system, with Travis Miles saying pay for some positions was inadequate and Brian Healy calling for performance-based raises. The city's current pay matrix simply gives each employee an automatic 2.5 percent pay increase every two years.
In response to that discussion, Martley put together his proposed system, which simply sets minimum and maximum wages for each job. Those amounts were mostly higher than the corresponding limits in the city's current pay matrix, but Martley said all of the city's current employees would fall into the ranges without receiving raises.
The maximum pay for some positions increased by as much as about $14 per hour — roughly $29,000 per year. Martley said the amounts were based on regional surveys of wages at other cities.
The ranges would allow for employees to receive raises based on performance, Martley said. The city has not done that in a number of years, he said.
"It gives that opportunity to finally start recognizing employees for all their performance issues," Martley said.
Mayor David Breuer said, though, that before the city settled on a new pay system, he would like two council members to study the issue more closely. It's too complicated for the council to address at one or two work sessions, he said.
"It's a little difficult for us all to really get a handle on it," Breuer said.
Members Brian Healy and Vernon Fields volunteered to work with the staff on the issue in advance of the council's budget process later this summer.
A change may be in store for city employees' health benefits in 2013, as well.
Martley also presented a resolution that would reverse a council decision made in 2011, capping the city's contributions toward employees' health, dental and vision insurance. According to the resolution, the city would pay for 100 percent of premiums for employees and 50 percent of benefits for their spouses or dependents.
That was what the city did before the council capped contributions in August 2011, as proposed by then-member Dennis Mertz. That measure passed by a 3-2 vote, and all three members who supported it — Mertz, Iris Dysart and Fred Box — are no longer on the council.
Martley said that if the caps remain in place as insurance costs increase, employees will face an effective pay cut.
"Their paycheck will go down," Martley said.
Eliminating the caps will cost the city about $6,000, he said. Employee benefits are funded entirely by the city's mill levy. But the benefit fund is projected to have a balance of about $91,000 at the end of the year thanks to a surplus, Martley said, so no property tax increase would be required.
Martley said the change would likely affect the city's budget only in 2013, as the city's health benefits in subsequent years will be subject to the health-care reform law, requiring a re-evaluation anyway.
Also Monday:
• During a special meeting prior to the work session, the council approved, 5-0, a resolution setting a public hearing for June 18 regarding the assessments for two improvement districts approved in 2008, along Basehor Boulevard and 155th Street.
• The council discussed the possible annexation of some properties east of 155th Street on Pinehurst Drive.
• The council entered into two executive sessions, lasting 30 and 20 minutes, with Martley and City Attorney Shannon Marcano to discuss matters relating to attorney-client privilege and nonelected personnel.