BSHS

softball manager grew alongside her team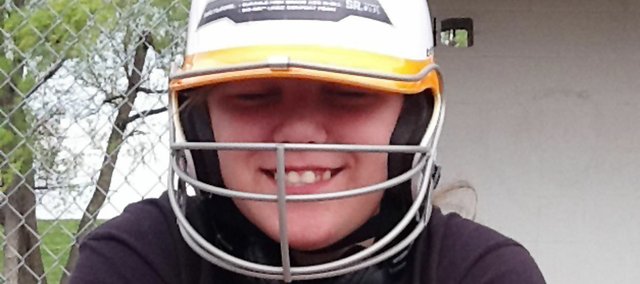 Pretty soon she was out there with them, hollering between half innings when the Bonner Springs softball team would switch between offense and defense. And once you hear Erin Walters' story, you'll know it was as big a victory as any of the Braves' 13 wins this spring.
As a sophomore, Walters was a manager for the Bonner Springs girls basketball and softball teams in 2012, helping with tasks like videotaping games and putting away equipment all while improving in the sport of human interaction. Walters has a disability that affects her social and communication skills. She receives special education support at Bonner Springs High School to help her prepare for adulthood.
She has struggled with initiating interactions with both strangers and, occasionally, those she knows. But Braves coach Denise Chowning, who has worked with Walters for three years, said this year has seen the most social growth from Walters. It was reminiscent of the Braves' turnaround on the softball field: a team effort.
The girls would accompany Walters to retrieve a lineup from the opposing team's coach, standing by her side as she initiated the conversation. It grew to where it was Erin seeking out players during the day for conversation and offering words of encouragement before games.
"Having Erin as a part of our team really reminds me about how special life really is," recent grad Kylee Timberlake said. "Erin wanted us to win just as bad as we wanted to, and sometimes it takes her yelling from the dugout for us to realize that we have the potential to do anything as a team, if we stick together."
Timberlake said it was Erin who helped the team see "the true meaning and impact of sports."
This year, for the Braves, that meant Erin shouting "cream them" or "crush them" while watching from the dug out. That's what sophomore Mikayla Ussery remembered most fondly this year.
"When we were in our circle in between innings and couldn't find something to say she was always there to back us up with something good," Ussery said.
For others, it meant watching a girl who couldn't make eye contact and kept her head down as she spoke grow into the author of so many super hero stories and animations that she would send home with new friends. Erin would also later write goodbye letters to the departing seniors, giving Bre Tendick the moniker, "Super Breanna."
"She is definitely our best fan and greatest cheerleader," junior varsity coach Kelly Hoopes said.
Now, she is becoming one of the most accomplished contributors on the team, a Brave in her own right. Someone who, as teacher Tabitha Marriot has observed, held her head up when she walked the halls at year's end.