'

No place like hope' for 10th annual relay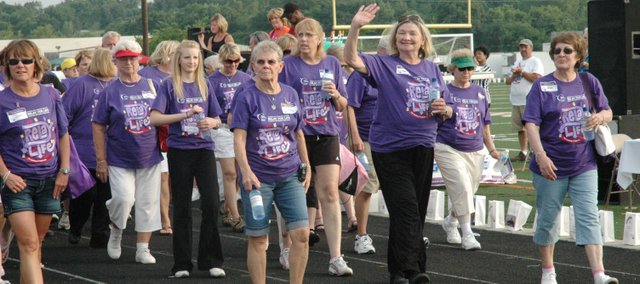 When the 10th Annual Kaw Valley Relay For Life begins at 7 p.m. Friday at the Bonner Springs High School football stadium, one notable "participant" from the last nine years will be missing.
The school district is in the process of replacing the stadium's bleachers and has already removed the old bleachers, which the relay uses for seating during its opening ceremonies, among other things. The new bleachers are still on their way, but Robert Wilson, co-chair of the event's organizing committee, said they will work around the lack of seating.
2012 Relay For Life Schedule of Events
5 p.m. Silent Auction begins, Luminaria Sales begin
5:30 p.m. Survivor Rally at Bonner Springs High School Cafeteria
6 p.m. Kidz Corner and Bounce House Open
7 p.m. Opening Ceremony; Survivor Lap, Caregiver Lap, First Team Lap; all other activities begin
9 p.m. Messages to Heaven — send notes and prayers in helium balloons
10 p.m. Luminaria Ceremony
10:30 p.m. Fireworks Display by Dan Muder, Pro Fireworks Unlimited
11:15 p.m. Dance Lap
12 a.m. Coffee Bar Opens
12:30 a.m. Pizza Delivery from Simple Simon's, Basehor
1 a.m. Fight Back Ceremony
1:15 a.m. Sheltered Reality Drum Line
3 a.m. Dance Hour
5 a.m. Sweets at Sunrise
6:45 a.m. Closing Ceremony
7 a.m. Final Lap
The event will provide 250 chairs for those who need them, but they also are asking participants to bring plenty of camping or lawn chairs to help out, Wilson said.
"They tell us there's no construction going on right now, so there is no machinery in the way," Wilson said.
Otherwise, the event committee is hoping the event goes on without a hitch.
The event to raise funds for the fight against cancer brings together participants from Basehor, Bonner Springs, Edwardsville and western Shawnee. Last year, the relay reached a big milestone, with $1 million in net funds raised over the event's history. This year, it already has raised $35,000 for the American Cancer Society, with 390 participants in 35 teams signed up.
And more funds are sure to be raised at the all-night event, which requires teams to have at least one member walking the track for the entire event, from 7 p.m. to 7 a.m. the next day, symbolizing a cancer patient's experience with the disease, from the sunset of diagnosis, to the dark hours of fighting against it, to the sunrise of overcoming it.
This year's relay has the theme "There's no place like hope." So using the Wizard of Oz-inspired theme, this year's survivor dinner, which starts at 5:30 p.m. at the cafeteria in the high school, will have rainbow-covered tables decorated with ruby slippers, and the survivors will enter the football stadium on a yellow brick road.
As always, there will be a lot for those who aren't team members but want to support the event and have fun. Teams will have special activities throughout the night to raise funds, the Kidz Corner will provide entertainment from 6 to 9:30 p.m. for children, the Luminaria Ceremony at 10 p.m. will honor all who have faced cancer, and there will be a free fireworks display at 10:30 p.m.
Wilson said one new group to come and entertain at the relay will be the Sheltered Reality Drum Line, which will perform at 1:15 a.m.
For more about the relay, visit relayforlife.org/kawvalleyks.