Seniors say farewell to longtime volunteer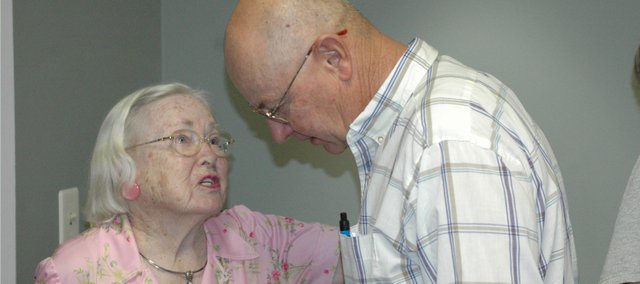 Even at 93, nothing kept Reba Shaw from going to the Bonner Springs Senior Center to help out.
She'd walk three blocks downhill to the center, on the lower level of the Bonner Springs Community Center, from her home at Nettleton Manor nearly every weekday morning. She'd be there waiting when Gloria Ochoa, center director, arrived to open the doors at 8:15. When Shaw was done, she'd walk back — including tackling the community center's many steps.
Shaw says she just wanted to remain involved with the center that she has supported for 25 years.
"All the people," she said of what she loved about the center. "I've spent a lot of time over here."
Members of the senior center gathered Friday to bid farewell to Shaw, whom others described as an institution. Shaw helped build the foundations of the city-operated senior center as one of its most active volunteers, and even prior to that she volunteered for years as a member of the Senior Citizens of Bonner Springs Wyandotte County Club. Now, after more than 70 years in Bonner, she is moving to Puyallup, Wash., to live near her daughter.
Shaw was born and raised in De Soto, moving to Bonner Springs in 1941 after her marriage. She worked at the Sunflower Ordnance Plant as a government tester and at the former McDanield School in the cafeteria.
But it was her dedication to the senior center that may be best remembered. She volunteered in many ways, preparing and mailing newsletters, creating the center's parade floats, running the annual spaghetti dinner and working the ice cream social at city band concerts. She was dubbed the "Senior Sitter" — the one in charge of the senior center when the director wasn't available.
Those who attended Friday's party remembered Shaw's endless energy, despite her "senior" status. A former neighbor said he would come home from work and find her on her ladder, cleaning out gutters. Another attendee remembered Shaw playing Mrs. Claus at a senior club event.
"I was so sorry to hear you're leaving," Evelyn Leitzen told Shaw when she entered the party. "Who am I going to talk with about the old times and people?"
Sylvia Tate became good friends with Shaw in 1984 in the senior club.
"We spent hours quilting and we went on all the (senior center) trips —we used to have four a year — and we would be partners," Tate said.
In recent years, Shaw has been known for her hats — white, pink and red — which she almost never was without. Except Friday, prompting several attending to ask "Where's your hat?"
Shaw had, in fact, worn her "special" pink hat to the center but opted to go hatless during the party.
One special guest was Jennifer Anders, daughter of the late Nancy Johnson, who was the center's director for 22 years.
"If my mom were here, she would be sobbing," Anders told Shaw.
Mayor Clausie Smith attended the event to proclaim June 1 as Reba Shaw Day in the city.
"We hate to lose outstanding citizens who have a long, long record of doing things for the community," he said.
Shaw was overwhelmed by the turnout.
"This is shocking to me," Shaw said, looking over the assembled group. "I'm floored. I've really enjoyed all my years here, and it's time to move on."