Twist sent
BLHS

grad to

KU

rowing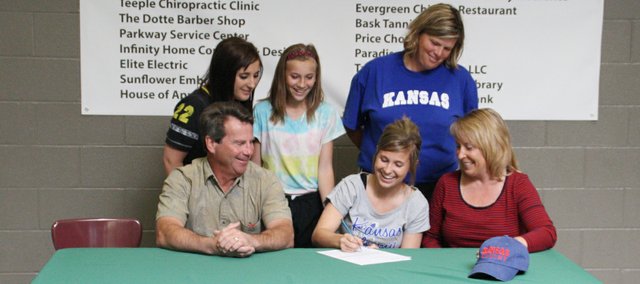 When most of her classmates were trying to figure out their plans after high school, senior Olivia Cowan had her post-graduation life mapped out early on. Come this fall semester, where she will be on the rowing team at Kansas University, none of those plans will have taken place.
Her initial goals were simple: after graduating from Basehor-Linwood in May, Cowan would attend a nearby community college while studying to be an ultrasound or X-ray technician. She would skip volleyball during her senior season because her heart wasn't in it. Softball in the spring would be her last season, perhaps in any capacity.
With sports basically out of the picture to make way for schooling, Cowan would eventually move on to a four-year college and go from there. But somewhere in there, the universe, as it often does, threw in something unexpected.
When Basehor-Linwood volleyball coach Amy Irvin heard about Cowan's lack of interest, she convinced her vocal leader to finish out her career. Cowan obliged. During a tournament in Louisburg, a scout recruiting for the Kansas rowing team spotted her.
"She said that I was the tiniest girl she's seen so far," Cowan said.
It is an odd statement to those without any knowledge on rowing or boat terminology. The recruiter saw Cowan as a coxswain, the person who sits at the head of the boat instructing the rowers. Her vocal leadership translated perfectly into a motivating boat manager and her small size was a bonus. The lighter the vessel, the faster.
"This is a totally new sport and endeavor," Cowan's father, Paul, said. "We didn't take it real seriously until I got a little bit curious."
After receiving information about the Kansas rowing program after the tournament, Cowan and her family thought it was general recruiting material that was handed out to everyone. Her father later called and found out it was more serious and direct. In February, they were up in Lawrence for a recruiting visit.
Now, instead of attending a community college to save money, Cowan has a scholarship for a Division I university, something not even she remotely anticipated. And though it's not exactly what she had in mind, she had to take advantage of the opportunity.
"I would regret it if I didn't," Cowan said. "I'm ready for any challenge that is given to me."
Because of the school change, she has changed her major into her true passion, which is teaching. Cowan's parents have adapted too, mostly because the tutoring and team commitment aspect lets them know that she will be out of harm's way.
Cowan said that being away from home is going to be, above all, a chance to become an adult.
"I'm looking forward to growing up," she said. "It's such a huge step from high school to college, but I'm excited to begin the next stage of my life."
When softball coach Susan Mayberry found out about Cowan signing with the rowing team, she wasn't surprised. Everyone knew she couldn't pass up a challenge, be it in life or in sports. One happenstance in Louisburg — in a sport she was reluctant to play in the first place — and Cowan has a completely altered plan. Perhaps this is for the better.
"That coach was in the right place at the right time to find her," Mayberry said. "That's how we look at it."