Redmond, as all-star, glimpses future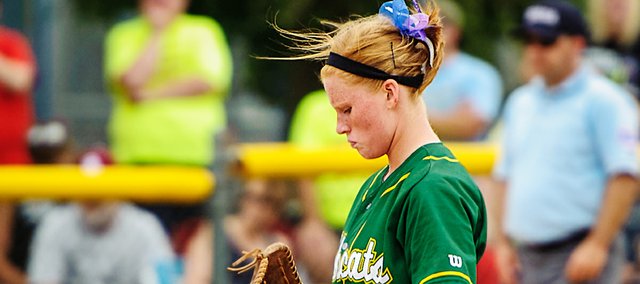 SHAWNEE — Because the three games were so close, most of the fun was sapped from the MO-KAN all-star softball series Monday night.
Basehor-Linwood pitcher Brooke Redmond's night had a blend of competitive heat and lighthearted smiles, some of which she had to keep in check during Missouri's 1-4, 3-1, 3-2, series victory against Kansas.
"You have to look at the big picture and realize we're playing for fun," she said. "Obviously nobody wants to lose."
Redmond, who represented the Bobcats on the Kansas side, didn't play in the first game that Kansas won with a few early runs. She started as pitcher in the second game and was sharp to start, fanning a couple of batters and getting out of dangerous situations. She allowed only one run in the second inning, when it could have been worse. On her end, anyway.
An error led to two more runs and despite giving up only one earned run, Redmond took the loss. She did get a couple of hits in the game as well. Her double in the seventh inning set up a potential game-tying hit.
The third game was even more nerve-racking when Redmond let a routine pop-fly slip through her glove, allowing a run.
Missouri then scored two more runs to cap the comeback, winning the series.
Everyone knew it wasn't about the stats though. Redmond proved herself this past season for Basehor-Linwood, leading the Bobcats to a third-place state finish. Monday night was a sort of last "hoo-rah" with players she has played with throughout her high school career.
"You get to play with the girls one last time," she said.
Next year, Redmond will play outfield, pitch and hit at Upper Iowa University.
A couple of her all-star teammates, coincidentally, are attending Northern Iowa University, which is about 30 minutes away.
This whole summer will be dedicated to individual workouts and playing with her competitive summer team. Redmond said that she has to go up to school on Aug. 17 and will be attending the graduate weight and conditioning program at Basehor-Linwood this summer until then. She is doing anything that will help her improve this offseason.
Redmond liked everyone she met affiliated with her new team, which is why she wants to get up there so fast. She admitted that she hasn't even thought about what changes college and her new life will bring.
"The nerves haven't quite hit me yet," Redmond said.