Sporting
KC

holds off Toronto

FC

, 2-0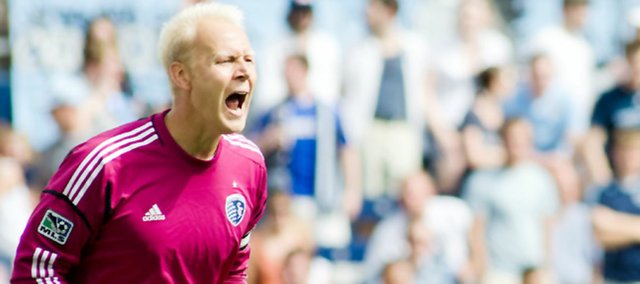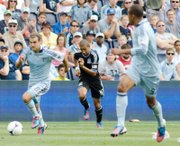 Kansas City, Kan. — The volley was as crisp and technically brilliant as could have been asked, the missing equation to what until then had been a torrent of chances without many finishes for Sporting Kansas City on Saturday against Toronto FC.
In the 34th minute, defender Julio Cesar received midfielder Graham Zusi's corner kick and sent it through for what would be the final score for Sporting KC (9-3-1) in a 2-0 victory to move into second-place in the Eastern Conference.
"World class," coach Peter Vermes said of the goal after the game.
The score padded a lead initiated by forward C.J. Sapong in the 18th minute off a cross by midfielder Jacob Peterson, who started his first game for Sporting KC with Kei Kamara still overseas competing for the Sierra Leone national team. Following his team's results on Twitter, Kamara would soon read that he would be joined by Sapong atop the team's scoring leaders with five goals apiece.
Peterson's cross was one of several scoring attempts the seven-year veteran helped orchestrate against his former club.
"It was just a matter of time for him," Zusi said. "He's such a hard worker. Whenever he gets his chance, he makes the most of it. I can't say enough about how dangerous his early crosses were for us tonight."
After the game, Peterson said he'd be lying if he denied playing against Toronto FC — a trade from which left him with a bitter taste in 2011 — didn't add extra motivation.
"I think anytime you play your former club, people want to be politically correct and say the right things but there's no doubt I didn't particularly enjoy my time up there," Peterson said.
In front of a season-high 20,488 fans at Livestrong Sporting Park, Sporting KC hosted a Toronto FC club very much in transition in its first game with new head coach Paul Mariner.
For much of the first half, Toronto (1-10-0) conceded possession to Sporting KC, who for its part saw a number of chances by forward Teal Bunbury, midfielder Jacob Peterson, Zusi and Cesar.
Cesar's goal — which he campaigned to be selected as MLS Goal of the Week after the game — followed a pair of easier chances that missed the mark by inches.
"For me, the most clear was the second one," Cesar said. "The opportunities come when you try to find them. Today was the most opportunities I've had, and I put one in the net."
Zusi's assist on Cesar's goal gave him eight on the season, good for first in Major League Soccer.
For much of the second half, Sporting KC had to hold off a Toronto FC side that began to string together more chances than it had in the first 45 minutes. After owning a 10-2 advantage in shots, Toronto FC stormed back with nine of its own in the second half. Still, highlighted by a beautiful kick-save by goalkeeper Jimmy Nielsen in the 73rd minute, Sporting KC would keep its guests out of the net.
On the save, Nielsen denied Toronto's Danny Koevermans after the forward had defenders Aurelien Collin and Lawrence Olum beat.
"For him to come up with that big save that was tremendous," Vermes said. "It kept us in the game and you hope that your keeper can do that for you over the course of multiple games and he did."
Fortune smiled on Sporting KC multiple times Saturday, most notably during successive Toronto attacks in the 24th and 29th minutes. Collin and midfielder Roger Espinoza helped clear the first attack. Minutes later, Toronto midfielder Eric Avila found himself one-on-one with Nielsen, whom he beat for what looked to be the game's equalizer at the time. Yet the ball smacked off the left post and danced in front of the goal line before hitting the right post and returning to play.
Olum made his first start for Sporting KC this year, filling in for Matt Besler, still on the mend from appendicitis. Olum and Collin combined to make a defensive team that earned a glowing review from Vermes after the match.
"It was difficult for those guys to play against them," Vermes said. "I thought they established their dominance pretty early, and that continued throughout the game; good partnership right there."
The absence of Kamara and Besler allowed for more minutes to be played by a few reserves that will likely be called upon as Sporting KC continues a marathon stretch of five matches in two weeks. This week, Sporting KC embarked on a coast-to-coast two-game road trip beginning at 9 p.m. Wednesday at Seattle, followed three days later by a 6 p.m. start at Philadelphia. Sporting KC will return to Livestrong Sporting Park when it hosts the Dayton Dutch Lions in the quarterfinals of the U.S. Open Cup at 7:30 p.m. Tuesday, June 26, three days before hosting the Chicago Fire.
Sporting to host French club
Sporting KC added another international friendly to its schedule, announcing this week that it will host French Ligue 1 champions Montpellier HSC at 7:30 p.m. Tuesday, July 24.
Montpellier will visit Livestrong Sporting Park so one week before Sporting KC hosts English Premier League club Stoke City at 7:30 p.m. Tuesday, Aug. 1.