BLHS

grad, gymnastics buff Zach Tucker moves on to

KU

cheer squad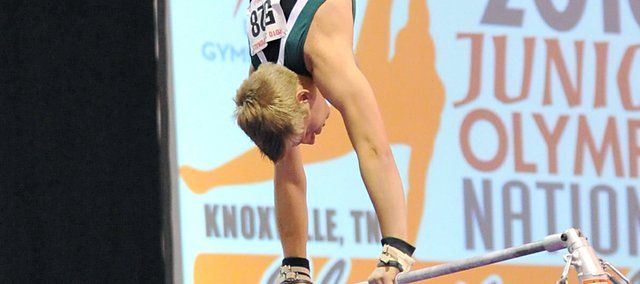 Zach Tucker has devoted 15 years of his life to gymnastics. Ever since he was three, he and his family grew accustomed to a routine, which included working out six days a week and traveling across the country. Still, Basehor was all he knew.
For the first time in his life, he is without gymnastics, something very few people knew about him. Perhaps more drastic is that he will attend Kansas University in the fall, a sizeable change from the small community of Basehor and the 166 seniors with whom he recently graduated.
Maybe now that Tucker is part of the KU cheer squad, people will start to recognize him.
"He's worked so hard his whole life and nobody knows he can tumble the way he can tumble," his mother, Tina Tucker, said. "Nobody knows that he's as strong as an ox even though he's only 5-7."
Yell leading is not gymnastics, but it's not far off. That was, at least, why the Tucker family decided it best to go that route.
Basehor-Linwood High School doesn't have a gymnastics team, so Tucker has been doing it as a club sport, and successfully. He was one of the 192 participants in the national gymnastics competition.
To Basehor-Linwood softball coach Susan Mayberry, who supported Tucker through gym class, the self-discipline has impressed her.
"I'm just really excited for him because we don't have a gymnastics program for men or women at our school, so that's something he's had to do on his own," she said.
Tucker, who graduated from Basehor-Linwood earlier this spring, was at a crossroads of sorts when thinking about his future. He knew already that he wanted to become an eighth-grade math teacher, which came as no surprise to those around him.
But his future with gymnastics, his life's passion, was in question. The number of schools with a gymnastics program is very limited to begin with and none of them are in Kansas or Missouri. Though most of his peers were looking at those colleges, Tucker realized a couple of years ago while on the road that he had had different goals.
"He and I were sort of walking the streets in between competitions and he said, 'I think I'm done with gymnastics,'" Tina said.
However, he did promise to finish competing until he finished high school. But with all the skills he had cultivated over the years, Tucker wanted to find some athletic activity to do while in college.
"I wanted to stay committed to something," Tucker said.
During that time, Josh Magaha, a cheerleading coach at MidAmerica Nazarene University, visited Basehor-Linwood and asked Tucker to perform some stunting. For male yell leaders, stunting means lifting cheerleaders in various formations. He is more of a tumbler, which is more of a gymnastic floor acrobat, but tried it.
Eventually, it led to clinics put on by the University of Kansas and the school took notice. Last year, Kansas invited him to a recruitment camp, and his tumbling set him apart even though he was still new at stunting. Coaches told him that you can teach stunting, but tumbling is more natural.
With interest from other schools, Tucker chose to escape the small-town for the big DI school.
"I wanted to make a big change," he said. "If I'm going to go to college, I don't want to go where it's comfortable."
It is a bit of a jump for Tucker, who has known Basehor for essentially his whole life. Tucker is the first in his family to attend Kansas, a school they supported but not emphatically. Family members joke that, despite the many potential televised games, they will only be able to see his wrists on the screen.
Life has turned out better than Tucker could have hoped. He goes to Lawrence multiple times per week to practice, which is a few guys flinging girls into the air. Tucker is doing his best to improve at stunting, which means more strength training as well.
Now on the team, Tucker's next goal is to make Nationals Mat, which is the top eight men and women competing against teams from across the country.
But every college spirit squad has to have cheers as well. Tucker said he will know them by the time mandatory practices start on July 12.
"It's a serious thing, but the joke is that if we don't get them learned, we're going to run suicides until we learn them," he said.
Within the confines of his family, Tucker has accomplished a great deal already. It took giving up on 15 years of gymnastics, the only life he had ever known, but Tucker is all smiles about what comes next. Even if he isn't 100-percent prepared.
"He was clueless on cheerleading," Tina said with a laugh. "And he still is."