Bonner detective's work results in law change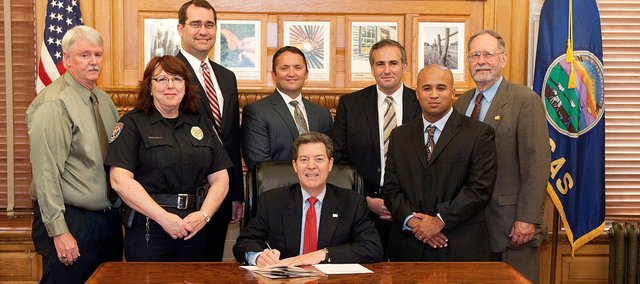 The first time Detective Vickie Fogarty interviewed the 6-year-old girl, she couldn't admit her uncle had sexually abused her.
Nine years later, the girl finally felt safe enough to talk about her abuse. But Kansas law was working against her. The statute of limitations was five years after the crime occurred.
"There was nothing I could do to file charges, because she had had the opportunity to disclose," Fogarty said.
Fogarty said she repeatedly has run into similar situations.
"A lot of times (the children) are not even threatened; they're just terrified of the offender," Fogarty said.
However, starting July 1, thanks to work by Fogarty, Kansas Attorney General Derek Schmidt's office and the Kansas Fraternal Order of Police, law enforcement officers will have more time to bring charges against suspected child abusers.
The Kansas Legislature approved three bills that will help with prosecution of people who sexually abuse children. The new statute of limitations for prosecuting violent sex crimes against children will be five years from the day after a victim turns 18.
The other two new laws:
• Strengthen the prohibition on sexual relations between foster parents and foster children older than age 16.
• Allow for a lifetime extension of protection orders for victims under certain circumstances.
About two years ago, Fogarty said she decided to bring the matter forward, discussing it first with the Wyandotte County district attorney, Sunflower House Child Abuse Prevention Center, and her husband, Pete Fogarty, who is president of the state Fraternal Order of Police.
The FOP hasn't worked on changing laws in recent years, Pete Fogarty said, but the organization had been developing a relationship with the attorney general's office to be more proactive.
"It's the first time in years that we have influenced or tried to influence legislation," he said.
In testimony supporting the change in the statute of limitations, Assistant Attorney General Kyle Smith used an example Vickie Fogarty provided. He told legislators how in 2010 an 18-year-old confirmed her rape at the age of 6, and though her abuser admitted his crimes — along with many others in his past — he could only be charged with his most recent crime, the molestation of another 6-year-old child.
Vickie Fogarty said the new laws may help with many cases, such as one that still haunts her. An abuser admitted to molesting a 13-year-old girl, but the girl insisted nothing had happened.
"She told me, 'I don't want my dad to think he raised me wrong,'" Fogarty said. "To this day, she hasn't disclosed. As she had gotten older, 18 or 19, maybe she would have gotten the strength to tell."
Vickie Fogarty said she is proud that her effort had such positive results.
"There's not a lot of things in life that you can do that affect the lives of so many, and this did," she said.