Pichardo showcases skills in front of scouts at all-star event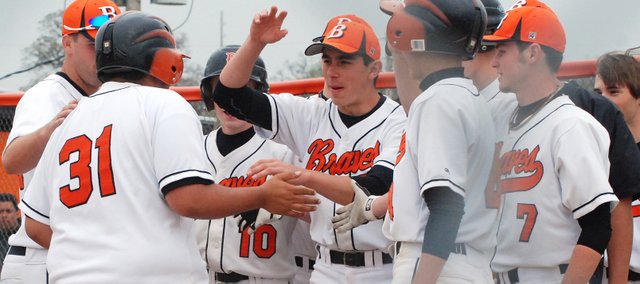 With one of his former teammates, Shawn Jones, out with medical problems, recent Bonner Springs graduate Gonzalo Pichardo looked to find a chance at the next level at the KCK RBI Showcase on Saturday at CommunityAmerica Ballpark.
Junior college, Division I, Division II, NAIA, and pro scouts were all in attendance as 39 players looked to improve their positions for college.
For Pichardo, he's still looking for an opportunity to play post-high school ball and this proved to be helpful. A designated hitter and catcher for the Braves, Pichardo finished second-team All-State at 4A after his final season.
The showcase consisted of three seven-inning games featuring teams named Team KCK, Team RBI and Team Kansas.
This was the second time this event was put on by KCK RBI organization.
Team Kansas was a new addition from last year when only KCK and RBI teams were fielded.
Pichardo played for Team KCK for Sumner Academy coach Cecil Christwell.
In the first game Pichardo went 0-for-3 against Team RBI. George and Leslie Brett threw out the first pitch for that game.
Pichardo bounced back in the second game with a 2-for-3 performance against Team Kansas.
With a 5-16 record, the Braves showed improvement throughout the year with Pichardo being a crucial part to the team's culture change.
Pichardo finished with a .408 batting average this season.
He led the Braves with 18 RBIs and on-base percentage with .524. He was tied for second on the team in hits with 20.
The Braves lost to St. James Academy at the regional quarterfinals on May 14 by a score of 3-2 in Eudora.