Basehor business owners talk social media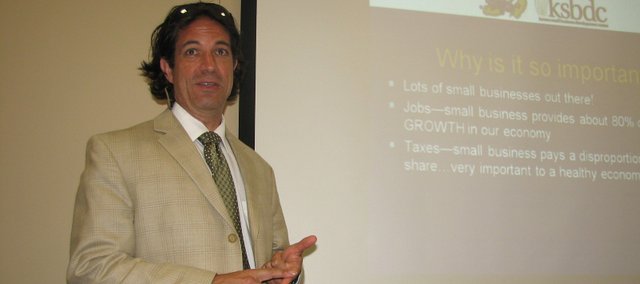 Jerry Hardwick finds new customers for his Basehor-based business, B&J Lawn & Landscaping, by posting fliers, sending mailers, buying phone book ads and talking face to face.
But does he use Facebook or Twitter? Not so much, he told Will Katz, director of the Kansas University Small Business Development Center.
"I'm not too good on that," Hardwick said Thursday with a laugh.
That's no reason to fret, because it's easy to learn, said Katz, the guest speaker at the Basehor Chamber of Commerce monthly meeting. He offered members advice on marketing and sales, including the suggestion that they give social media a try if they haven't already.
"The question isn't are you going to use these strategies," Katz said. "It's how well you're going to use them."
A good portion of Basehor businesses have found their way onto social media platforms, according to an informal survey Katz conducted. Nearly all of the Chamber members in the room raised their hands when he asked if they were on Facebook, and a handful also did when he asked about Twitter.
Amber Anderton, who owns Wagg'n Tails Day Spa in Basehor, told other chamber members that Facebook was a big part of her business routine.
"I have people who Facebook me for grooming appointments, and if I don't check every day, then I might lose that client quickly," Anderton said.
Cecilia Harry, economic development coordinator for the Leavenworth County Development Corporation, held up Wagg'n Tails, Basehor Community Library and the Basehor-Linwood school district as three area groups that used Facebook well.
Basehor-Linwood superintendent David Howard, who also uses Twitter at @dlhoward32, said the district had found Facebook an effective way to communicate with patrons. A small business, he said, would be better off simply building a Facebook page than paying a developer to create a website.
Katz, who also works with business students at KU, said he'd learned from them that modes of online communication are changing.
"My college students tell me, 'Old people use email. Old people go to web pages,' " Katz said.
Chamber member Pat Jeannin of Union Bank & Trust said he knew from experience that a social-media presence would be crucial for businesses to make contact with younger potential customers. That's because he has kids in their 20s, he said.
"Truly, that's the only way to connect with them," Jeannin said.