Basehor Fourth of July parade returning with focus on 'Champions'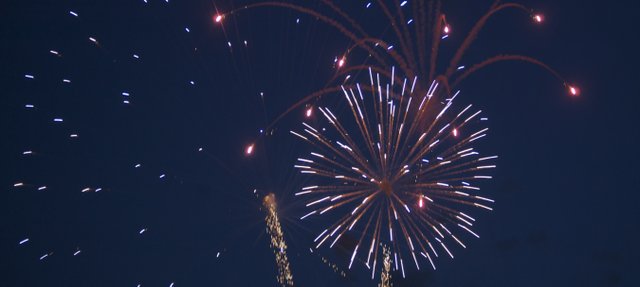 Schedule
Basehor PRIDE Fourth of July celebration
At Basehor-Linwood High School
6:30 p.m.-8:30 p.m.: Parade, food and entertainment
• Featuring a dunk tank, moonwalk and more.
8:30 p.m.: Basehor Chamber of Commerce Outstanding Citizen Award presentation
9 p.m.: Color guard with 21-gun salute, national anthem
9:15 p.m.: Free fireworks display
Rain out date: July 7
When no parade marched down 155th Street on the Fourth of July for the first time in about 20 years in 2011, the questions poured in, Judy Goens says.
"They kept saying, 'Where's the parade? Where's the parade?' " Goens said.
Goens and other members of Basehor PRIDE heard residents' cries, she said, and the Fourth of July parade is back this year with a new focus. Dubbed the "Parade of Champions," this year's entry will honor Basehor-Linwood High School's boys basketball and boys and girls powerlifting teams, all of which won state titles this year, as well as the softball team, which finished third in the state.
The teams will ride by on floats, and their coaches — Mike McBride for basketball, Ross Schwisow for powerlifting and Susan Mayberry for softball — will serve as the grand marshals.
"That will be the main attraction," said Chuck Wilderson, president of Basehor PRIDE.
Also due to be featured are the record six graduating BLHS seniors who achieved the rank of Eagle Scout — or at least those who will be in town.
"They're champions, too," Wilderson said.
The Fourth of July parade began when organizers of a Basehor centennial parade in 1989 decided to keep the fun going in future years, Goens said. It was called off last year because PRIDE, which has handled the event since it formed in 1995, did not have the resources to put it together on its own, Goens said.
With many families traveling out of town and school not in session, putting the parade together takes some work, she said.
"We just didn't have the manpower to do it," Goens said.
This year, though, representatives from the city of Basehor, the Basehor-Linwood school district and the Basehor Chamber of Commerce have pitched in to help.
"I think it will be one of the better parades we've had in a while," Wilderson said.
The parade will begin at 6:30 p.m. July 4, running along 155th Street from Leavenworth Road to Parallel. It will be followed by the rest of the annual PRIDE Fourth of July celebration at Basehor-Linwood High School, including concessions served by the Basehor VFW Post, music by the Fairmounters, a 21-gun salute and the presentation of the Chamber's annual Outstanding Citizen Award (which Goens won in 2011). And, of course, the night will be capped off by a fireworks display at 9:15 p.m.
Goens said she hoped a good crowd would line the sides of the street for the parade's return, as it's obviously important to many folks around town.
"I guess it's just the ambience of having a small-town parade down the main street," Goens said.