Bonner Blast set to be the biggest yet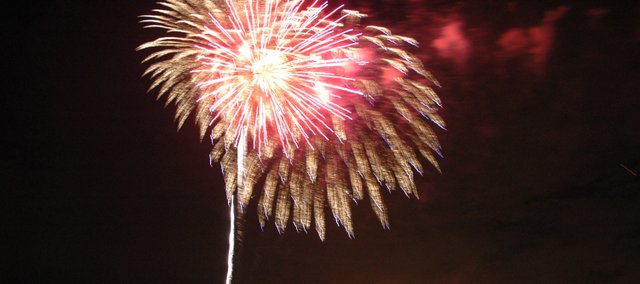 One of the benefits of the Bonner Blast: there isn't just one "perfect seat."
People from miles around can enjoy the annual fireworks show, organized by Downtown Bonner Inc., from a wide variety of vantage points thanks to the higher elevation of the firework's launching point on the northeast corner of Kansas Highways 7 and 32.
"We've got the luck of the bluff here," Debe Birzer, DBI member, said.
And the DBI is looking forward to spectators finding their own spot to view the show Thursday night, whether in a car pulled over on K-7, in a parking lot off K-32, at Bonner Springs High School or even in the Bonner Springs Cemetery, to enjoy what may be the biggest show ever.
As other cities continue to hold off on the expense of Independence Day fireworks displays, the DBI organizing committee of Birzer, Bob Firth, Jeannine Gallagher, Vicki Kobialka and Dede Summers set out with a lofty goal for the 12th year of the Bonner Blast: to raise enough funds to increase the show's budget by about $1,000.
"So it should be, I'm going to guess, the best display ever — at least we hope it will be," Firth said.
The Bonner Blast will follow the Bonner Springs City Band Concert at 8:30 p.m., which has been moved from Kelly Murphy Park to Bonner Springs High School due to the excessive heat, with Thursday's high predicted at 100 degrees. Because the concert has been moved, Firth said the 15- to 18-minute fireworks show will be delayed at least 15 minutes from the concert's end to allow concert attendees to move to another viewing location should they so choose.
The show was among those cancelled due to the economy in 2010, but Firth said when DBI brought the show back last year, it received overwhelming community support.
"Everyone has just been grateful that we do it and very generous in donations," he said.
This is what lead the organizing committee to sign a contract for a more expensive show this year. But raising those funds has been difficult because of the economy and the loss of several individual donors. Firth and Kobialka, who did the majority of the fundraising this year, said many donors also weren't able to give as much as they had in prevous years.
"We had to knock on more doors to make it work," Firth said. "We take kind of a leap of faith that we're going to have that community support when we sign the contract."
Still, the total donors Monday was at 56 businesses or individuals. In addition to the city's contribution via the Bonner Springs Convention & Tourism Bureau, the main supporters this year are Union Bank & Trust, Kobi's Club & Deli, Midwest Bus Sales, Berning Tire, Bonner Springs Faternal Order of Police Lodge No. 65, Dairy Queen, Speedway Bar & Gril and Wagner Auto Body & Sales.
The group is still taking contributions, which can be dropped off with Firth at Inter-State Federal Savings & Loan or Kobialka at Kobi's or mailed to P.O. Box 74, Bonner Springs, KS 66012. The group also hopes to get more volunteers in the future to help organize the fireworks show that draws so many to the community.