Johnson, Howell among state's top recruits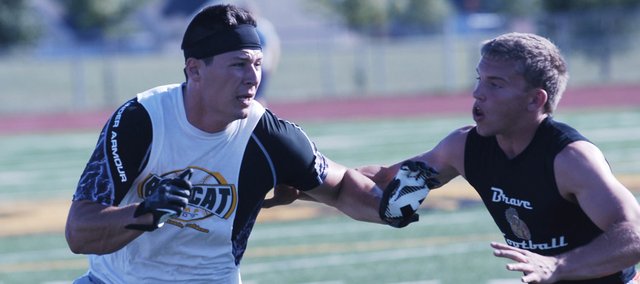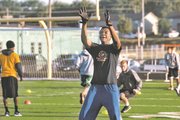 The 2013 high school football season will be a big one to watch athletes in the Kaw Valley League. According to Rivals.com, four of the top-10 players ranked in the state of Kansas are from the KVL.
Basehor Linwood tight end Ben Johnson (No. 4), Mill Valley quarterback Skyler Windmiller (No. 7) and offensive tackle Coleman McCann (No. 9) and Bonner Springs offensive lineman Tyler Howell (No. 10) are all on scouts' radars, but Johnson is the only one who has made a commitment, committing to Kansas University earlier this year. Head coach Steve Hopkins said Johnson's impact goes beyond what he does on offense.
"He's been one of our leaders since his sophomore season," he said. "He also plays defensive end. He gets real excited about playing, so he's vocal."
Rivals analyst Jon Kirby said Johnson has the size and athleticism to attract Division I attention.
"With Ben, the thing that catches recruiter's attention, and coaches at the University of Kansas, is a tall, lean, athletic body," he said.
With KU running a pro-style offense, Kirby said tight ends will be expected to block, as well as catch passes.
"You don't see that kind of athlete a lot because a lot of high school's spread out the field."
Mill Valley head coach Joel Applebee has seen each of these athletes over the last couple years, and feels Johnson is a player who can hurt teams in different ways.
"He's somebody we're not going to miss," he said.
Hopkins said the tight end is a physical player who will be a factor in the run and passing games for the Bobcats.
"The whole thing is he just loves to play tackle football," Hopkins said. "Sometimes receivers are interested in being pretty. He's not one of those guys."
Playing offensive tackle and defensive end for the Braves, Howell is also a talent Applebee thinks will be tough to deal with this year.
"He's big, strong and will be a force in our league no doubt."