Basehor youths honored by Sheriff's Office for helping brother during seizure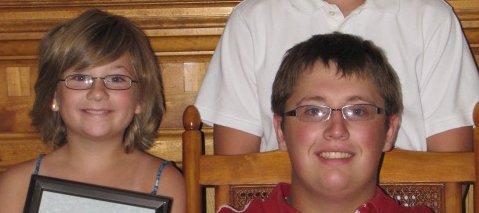 A Basehor 18-year-old and his 11-year-old sister were honored by the Leavenworth County Sheriff's Office in May for coming to the rescue of their brother when he had a seizure while the siblings were driving on a rural road.
Tyler and Hayden Fritts received certificates of recognition from the Sheriff's Office on May 31 for their actions about 18 months ago. Their brother Trevor, 13, accepted Tyler's award on his behalf, as Tyler was unable to attend.
Tyler, then 16, was driving Trevor, 12, and Hayden, 9, to McDonald's in Bonner Springs on Dec. 26, 2010, when Trevor began to have a seizure and became unresponsive. Tyler called 911 and gave dispatchers directions to their location on 142nd Street near Kansas Avenue in rural Leavenworth County. Hayden, meanwhile, comforted Trevor until emergency responders arrived.
Tyler and Hayden prevented injury and possible death for their brother, Sheriff Dave Zoellner said.
"They are heroes and a wonderful example to everyone," Zoellner said.